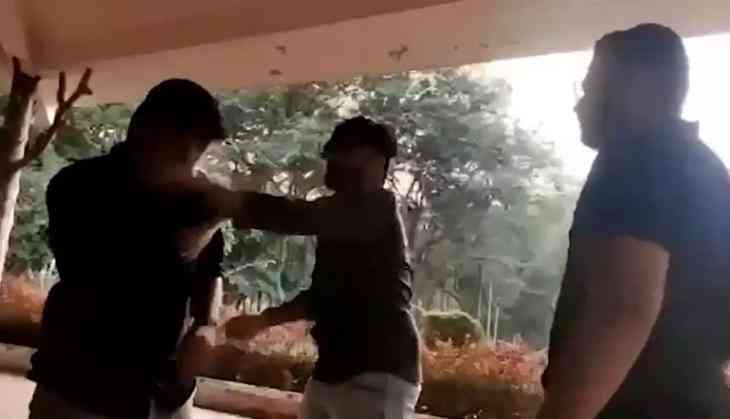 Bandi Sanjay's son assaults student on college campus.
An FIR has been filed against Telangana BJP chief Bandi Sanjay's son, Bhagirath, for assaulting a student on college campus. Videos of incident are going viral on the internet.
Dundigal Police filed an FIR against Bhagirath and one other person in the Mahindra University assault case. The police have registered a case under Sections 341, 323, 504, and 506 r/w 34 of the Indian Penal Code.
The video which went viral displays Bhagirath, assaulting a student and slapping him. The incident happened after the victim allegedly requested the MP's son to help him with an issue. The video shows the MP's son confronting the student and further threatening to kill him.
Here's the video:
Telangana BJP Chief Bandi Sanjay's son Bandi Bhagirath is the one seen assaulting a batchmate. The victim allegedly was getting close to a sister of Bhagirath's friend and hence the altercation. Later, victim released a video claiming he has no complaint. No case registered. pic.twitter.com/8mUtrp4xcc

— Paul Oommen (@Paul_Oommen) January 17, 2023
The Deputy Commissioner of Police said, "An incident has taken place at Mahindra University. No complaint has been received yet. On an enquiry, the college authorities said that the man who was seen assaulting the student was identified as the MP's son."
Following the incident and a complaint, police officials filed an FIR against the MP's son, for assaulting a student and intimidating him. A senior police officer said, "A case has been filed against Bandi Sai Bhageerath after a complaint from college authorities. He's the son of Telangana BJP chief Bandi Sanjay. We took up the investigation and notice will be served."
Further investigation into the matter is underway.
Also Read: Gujarat horror: 9-year-old girl raped, killed; 1 arrested