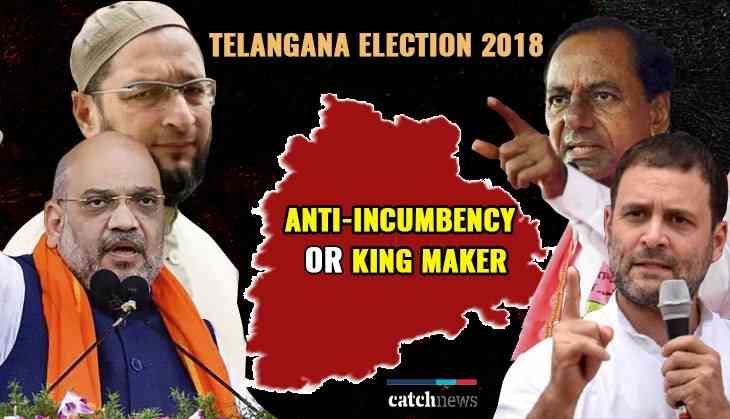 In Telangana election, it has been a bumpy ride for the parties due to the uncertainity of polls and the prediction has favored the incumbent.
After the Congress party formed a "Peoples Alliance" with the TDP, CPI and TJS, it was clear that the triangular contest will lead to an uncertain and ambiguous poll results.
Today, while caretaker CM K Chandrashekhar Rao came out to vote, he urged the public to participate in the election and take the front seat. Election campaigning saw Chandrashekhar Rao getting miffed with the questions of reservation for the minorities and had attracted a lot of headlines.
In the midst of polling today, ace Badminton star Jwala Gutta's name was not present in the voting list and it created a furore on the social media, where #Whereismyname started trending. Gutta said in a video, "Not doing this to join politics."
Hyderabad police commissioner Anjani Kumar came out to vote and said, "All senior officers are on duty in addition to the central police force, the paramilitary, CRPF, including female battalions and Rapid Action Forces"
Tennis superstar Sania Mirza voted in Hyderabad and the news agency ANI tweeted saying, "Sania Mirza cast her vote at Film Nagar Cultural Center in Hyderabad."
As the principal Opposition TDP's candidate in Serilingampally had accused TRS workers for turning away the supporters from the polling booth and it created a ruckus in the region.
Ananda Prasad, the TDP candidate said, "They are analysing the voters and allowing only TRS supporters inside while telling others that they do not have a vote in the booth. We have noticed this in Miyapur and Chandanagar and have informed the Election Commission. Even the police are assisting them with this. As a candidate, when I went inside to question this, the police dragged me out. Are they neutral or not?"
Nizamabad, which is seeing a triangular contest in its turf, is giving a tough competition to the ruling TRS with Congress and the alliance partners coming up with a single candidate and the BJP fielding a strong contender.
CM KC Rao's daughter Kavitha Rao also voted today, as the ANI tweeted "TRS MP K Kavitha stands in a queue to cast her vote at polling booth no. 177 in Pothangal, Nizamabad."
A few villages even had boycotted the assembly polls of Telangana saying that their demands and promises were not fulfilled by the TRS government.
With more than 1.35 crore female voters, a mere 136 women candidates from Telangana are a bizarre figures for the newest state of India.
Telangana is a state where a 2-3% vote swing can effect the government formation where 119 seats are up for grab. Earlier, TRS had won 63 seats and Congress remained with 21. But, its the AIMIM which won 7 and the newly formed TJS which might play the king maker in the election, wherein the Telangana can spring up a surprise, defying all the opinions and exit polls.
Also read: Telangana Election 2018 Live Updates: Polling begins in Telangana; Actor Akkineni