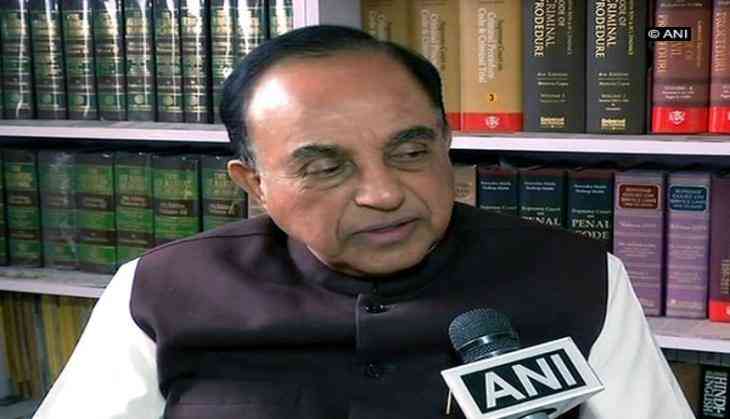 Bharatiya Janata Party (BJP) leader Subramanian Swamy on 25 December said that alleged Indian spy Kulbhushan Jadhav's meeting with his wife and mother should be a private affair.
The wife and mother of Jadhav will visit Pakistan today to meet him. The meeting will take place at the Pakistan Foreign Ministry in Islamabad.
Speaking to ANI, Swamy questioned why the meeting was organised at foreign ministry's office where there would be camera-surveillance.
"They should be able to meet in private but they are being called to their foreign ministry's office where there will be camera and all. What kind of meeting will that be? She wants to talk to her husband to find out how he is and what he is doing. How will any husband and wife feel when somebody is watching them talk to each other?" Swamy said.
Indian Deputy High Commissioner in Islamabad, JP Singh, will accompany Jadhav's wife and mother, along with one or two officers of the FO, the Dawn reported earlier.
Pakistan issued visas to Jadhav's mother and wife on December 20 to meet him on humanitarian grounds.
Pakistan has repeatedly rejected India's plea for consular access to Jadhav at the International Court of Justice (ICJ), alleging he was not an ordinary person and had entered the country with an intent of spying and carrying out sabotage activities.
On December 13, Pakistan submitted its reply to the ICJ in the case dismissing India's stance on Jadhav. The reply, which was submitted by the Foreign Office's Director (India), Fariha Bugti, also claimed that Jadhav's case does not fall under the purview of the Vienna Convention.
Pakistan's reply comes after India had submitted its written response to registrar Philippe Couvreur of the ICJ in the same case in September this year.
Jadhav was arrested in March this year, in Balochistan, Pakistan, over charges of alleged involvement in espionage and subversive activities for India's intelligence agency - the Research and Analysis Wing (RAW).
India, however, maintains that Jadhav was kidnapped from Iran where he had business interests after retiring from the Indian Navy.
On April 10, 2017, Jadhav was sentenced to death by a Field General Court Martial (FGCM) in Pakistan.
On May 18, 2017, the International Court of Justice (ICJ) stayed the hanging, after India approached it against the death sentence.
India has appealed to the court to impose emergency measures for Jadhav's execution to be suspended until the legal battle in Hague concludes, while also accusing Pakistan of violating the Vienna Convention by failing to provide him with consular access and for being in breach of international human rights law.
-ANI