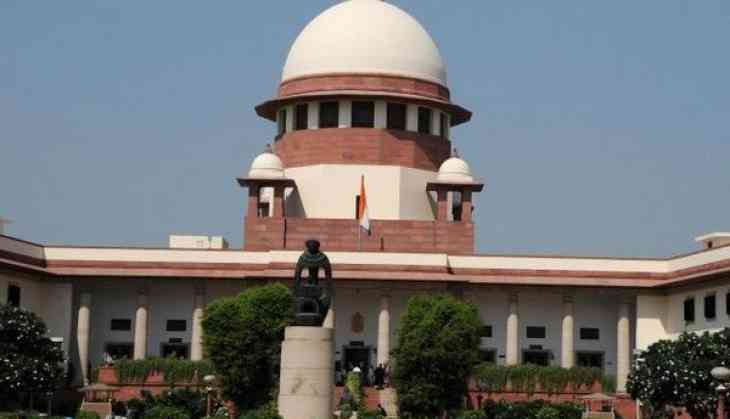 The Supreme Court of India while hearing petitions challenging restrictions in Jammu and Kashmir, asked the J-K administration to review and put in the public domain all restrictions imposed following the abrogation of Article 370 in August 2019.
A five-judge bench headed by Justice NV Ramana said that access to the internet is a fundamental right under Article 19 of the Constitution and asked the administration to restore internet services in institutions providing essential services like hospitals and educational institutes.
Hearing several petitions on restrictions in Jammu and Kashmir, the SC said the restriction orders under Section 144 can not be imposed to suppress the exercise of any democratic rights.
The SC also said the freedom of the press is impacted by the lockdown of communication and the internet in the UT.
Soon after the top court pronounced the verdict on various petitions challenging the restrictions in JK, Congress criticized the Narendra Modi-led govt and said the top court gave a big jolt to the Modi-govt.
Taking to Twitter the Congress leader Randeep Singh Surjewala said: "SC delivers a first big jolt of 2020 to illegal activities of Modi Govt by stating the importance of the internet as a fundamental right."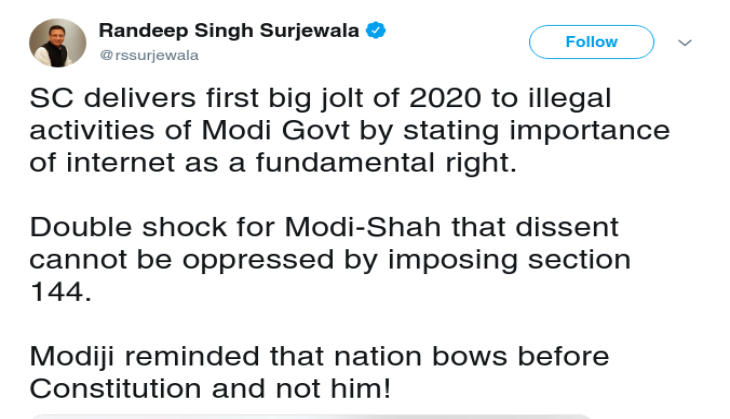 "SC recorded displeasure at Modi Govt's refusal to show its orders and reminded them that internet ban is an extraordinary measure. Modi-Shah now has a week to review Internet restrictions and place the reasons before the public. No more 'sealed envelopes' to hide the truth in!" Surjewala said in another tweet.
Highlights of the judgments:
Govt should publish all orders of restrictions in the UT and place it in public domain
Suspension of the internet for an indefinite period is not permissible
Under Article 19(1)(a), the Freedom of speech and expression through the internet is a fundamental right
Restrictions on internet service have to follow principles under Article 19(2)
The magistrate has to balance the interest of individual rights
Also Read: SC asks J-K admin to review orders imposing curbs within a week, says internet is a fundamental right