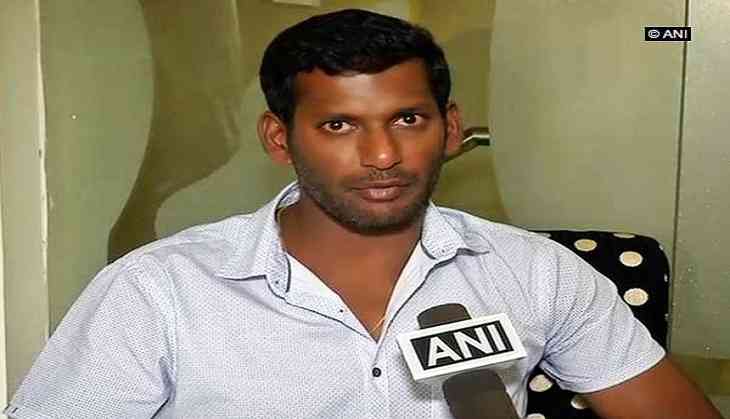 Actor Vishal on Wednesday said the rejection of his nomination papers for the RK Nagar by-election was a 'mockery of democracy'.
The statement came a day after the Election Commission (EC) rejected the actor's nomination upon charges of forged signatures on the papers, as reported by the local media.
"The rejection of my nomination this way was a big blow to democracy. It was a mockery of democracy. Why only Vishal has to have a different set of scrutiny and not other candidates. Returning Officer has the right to say yes or no but why, in my case, he had to go to the higher authority to consult it. I did not know there would be so much of ruckus on my nomination," Vishal said.
The actor added that he will complain against the Returning Officer to the concerned authority, adding that he was shocked at the way he was treated.
Vishal had filed the nomination papers for the RK Nagar constituency as an Independent candidate and was happy that the other two independent candidates had extended their support to him.
"My parents are proud that such a stir is created in the political scenario because of me being an independent candidate. They tell me that they did not know my presence would be a threatening thing for political parties," he added.
The RK Nagar seat fell vacant after the death of former Tamil Nadu Chief Minister J Jayalalithaa last year.
The bypoll for the seat, which was previously scheduled to be held in April, will now take place on December 21.
-ANI