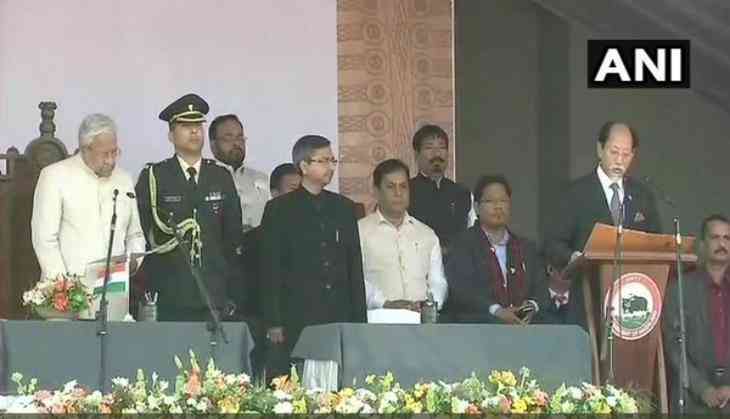 Nationalist Democratic Progressive Party (NDPP) leader Neiphiu Rio took over as Chief Minister of Nagaland.
Governor P B Acharya administered the oath of office and secrecy to Rio and his 11 Council of Ministers.
In a first, the chief minister and council of ministers of a newly-elected government in Nagaland took oath in full public view at the Kohima Local Ground.
The venue holds significance as the announcement of Nagaland's statehood on December 01, 1963 was made from here by the then president Sarvepalli Radhakrishnan.
The swearing-in ceremonies in Nagaland have so far been high-profile shows at the Darbar Hall of Raj Bhavan, with VVIPs, VIPs and top bureaucrats in attendance.
However, this time common people were also invited to the ceremony through newspaper advertisements issued by the State Department of Information and Public Relations.
The NDPP, in alliance with the BJP, took over the reins of the north-eastern state with the support of 32 MLAs.
The NDPP- BJP alliance government is being formed in the state under the banner of People's Democratic Alliance.
The Governor has asked the newly-elected Chief Minister to prove his majority on the House floor on or before March 16.
Quitting its 15-year-old alliance with the ruling Naga People's Front (NPF), the BJP contested 2018 Nagaland assembly elections in alliance with the NDPP.
The BJP won 11 seats, NDPP 16 seats, Naga People's Front (NPF) 27 seats and others four seats in the election, paving way for the Rio-led party to form the government in India's oldest insurgency-hit state.
Union Defence Minister Nirmala Sitharaman, BJP chief Amit Shah were among those who attended the swearing-in ceremony.
--ANI