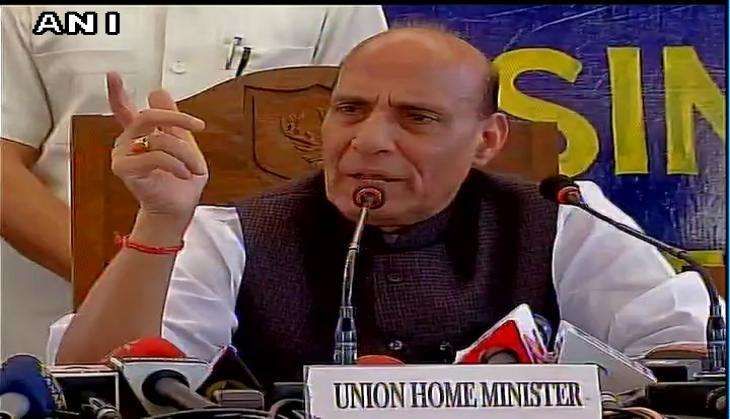 Union Home Minister Rajnath Singh, after meeting Jammu and Kashmir's Chief Minister Mehbooba Mufti and other political leaders, urged the youth of Kashmir not to engage in stone-pelting and asked security forces to restrain the use of pellet guns against protesters while addressing the media.
"I urge the youth of Kashmir not to engage in stone-pelting and also ask the security forces not to use the pellet guns against protesters," he said.
About his meeting with Mehbooba, Singh said that he has assured the minister "that any injured persons who are unable to get proper medical treatment here can be sent to Delhi for treatment. We will ensure they are treated at AIIMS."
Rajnath also took a strong stand against Islamabad's role in the ongoing tensions in the Valley and asked Pakistan to not encourage Kashmiri youth to take up arms.
"We do not need the involvement of any third party to address the situation in Kashmir," said Rajnath Singh, at the end of a two-day visit to the violence-hit Valley.
"I would like to tell our neighbouring country, you yourself are affected by terrorism. You had to storm the Lal Masjid to kill the terrorists. But on the other hand, you appeal to Kashmiri youth to take up arms. They are not pak (pure) when it comes to Kashmir," he added.
On being asked about any plans of initiating talks with separatists, Singh said "Let us first ensure that normalcy returns. Then, we can decide whether we talk to separatists or any other group."
The Union Home Minister also said that 2,228 personnel of the Jammu and Kashmir Police, 1,100 CRPF personnel, and 2,259 civilians have been injured in the violence in the aftermath of the killing of Hizbul Mujahideen terrorist Burhan Wani.