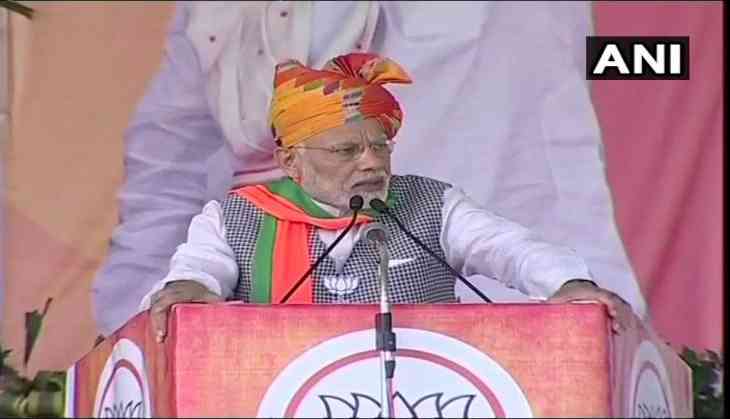 PM Narendra Modi has again taken a jibe at the Congress party while rallying in Left's bastion Sikar and has said that the Congress party is against the motherland, just 2 days ahead of polls.
PM Modi has said that the 'Congress party is creating a hype that BJP is loosing in Rajasthan and the grand old party has been disrespecting the army since the start by asking the proof and evidence of the surgical strike.'
On the last day of campaigning, PM Modi has taken a jibe at the Congress party by saying that they have issued a fatwa so that he is not able to say Bharat Mata Ki Jai. PM Modi mentioned about the achievements of its government like One Rank One Pension (OROP).
PM Modi said, "Congress has come up with a "fatwa" that I should not begin rallies with "Bharat Mata Ki Jai". How can they deny this? They must be ashamed of even saying such a thing. This shows their disrespect for our motherland."
PM Narendra Modi took a jibe at the Congress party and mentioned about the "naamdaar" where he said, "Desh ke jawan surgical strike karke aaye toh poora desh josh aur jazbe se bhara tha par Congress mein aise lag raha tha jaise koi shok sabha hai.Aapne jab khabar suni apko shak hua? Congress office mein baithe 'naamdar' keh rahe the Modi jhuth bol rahe ho."
Rajasthan will vote on December 7 and the result will be declared on December 11, which will be the decider for the upcoming Lok Sabha election 2019.
Also read: Lok Sabha Election 2019: Mayawati to skip Dec 10 Opposition meet called by Chandrababu Naidu; may affect
PM in Sikar, Rajasthan: Desh ke jawan surgical strike karke aaye toh poora desh josh aur jazbe se bhara tha par Congress mein aise lag raha tha jaise koi shok sabha hai.Aapne jab khabar suni apko shak hua? Congress office mein baithe 'naamdar' keh rahe the Modi jhuth bol rahe ho pic.twitter.com/KJS6wCkDrz

— ANI (@ANI) December 4, 2018
PM Narendra Modi in Sikar, Rajasthan: Congress has come up with a "fatwa" that I should not begin rallies with "Bharat Mata Ki Jai". How can they deny this? They must be ashamed of even saying such a thing. This shows their disrespect for our motherland. #RajasthanElections pic.twitter.com/wIEOfynRC3

— ANI (@ANI) December 4, 2018