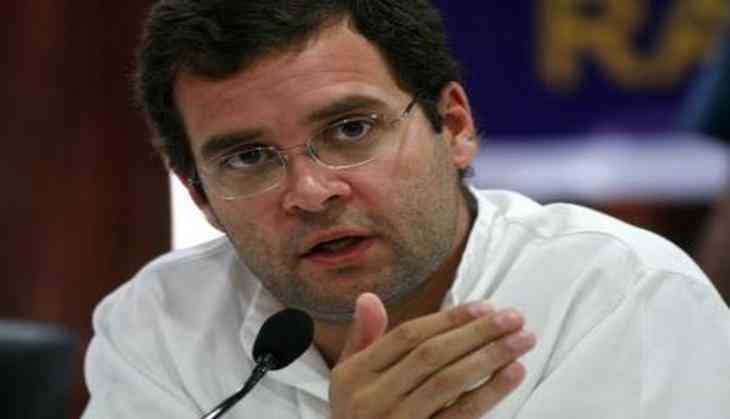 Congress vice president Rahul Gandhi on Saturday urged the party workers to call off the protest staged by them across the nation against the attack on his convoy.
Taking to Twitter, Rahul said that he respects the sentiments of Congress workers who are protesting against the Centre against the stone pelting.
"Respect the sentiments of Congress workers in #Gujarat protesting against admin not filing an FIR against the stone pelting. But I urge them to divert their energy in helping the people affected by floods in the state (sic)," he said in a tweet.
The Congress Party on Saturday staged protests across the nation over attack on party Rahul's convoy in Gujarat on Friday.
The Congress workers staged protests in Gujarat's Ahmedabad , Chandigarh, Madhya Pradesh's capital Bhopal and Maharashtra's capital Mumbai.
The Mumbai Youth Congress workers threw flowers inside Bharatiya Janata Party (BJP) office Iin Gatkopar and shouted slogan against Prime Minister Narendra Modi and BJP president Amit Shah.
Rahul's car was attacked on Friday when he was on his way to the helipad after visiting the flood-hit areas in Gujarat.
Earlier in the day, Rahul cornered Prime Minister Modi and said it was BJP and Rashtriya Swayamsevak Sangh (RSS) way of politics.
"In yesterday's incident, BJP workers threw a stone at me which hit my personal security officer (PSO). This is Prime Minister Modi and BJP-RSS's way of politics. What can I say?" Rahul told media.
Indirectly referring to Prime Minister, Rahul said, "Why the one, who has done this, would condemn the incident?"
After Rahul's car was attacked, Congress spokesperson Randeep Surjewala alleged that BJP goons pelted heavy stones at Rahul's car when he was on his way to the helipad after meeting flood victims at Gujarat's Dhanera.
Following the attack, Rahul took to Twitter and wrote, "Narendra Modi ji's slogans, black flags and stones will not stop us.... We will put in all our might into the service of people."
Condemning the incident, Gujarat Chief Minister Vijay Rupani said that a senior officer were appointed to investigate into the incident and assured that a strict action will be taken against the guilty.
-ANI