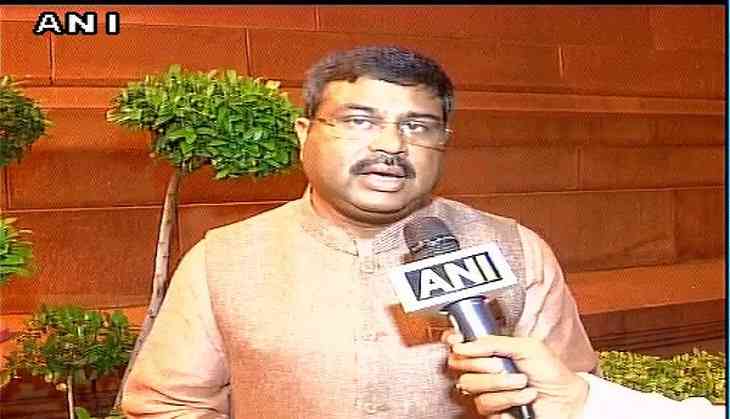 Union Minister of State for Petroleum and Natural Gas Dharmendra Pradhan took a jibe at the Opposition for boycotting the midnight session of the Parliament organised in lieu of the rollout of the much-awaited Goods and Services Tax (GST), saying 'bhagwan unko satbuddhi dein' (may almighty bless them with sense).
"It is a historical moment. Both Prime Minister Narendra Modi and President Pranab Mukherjee congratulated all political parties including the previous governments. Nobody knows why the Opposition did not come. May Almighty give them some sense," Pradhan told ANI.
Earlier, Union Minister of Textiles Smriti Irani also attacked the Opposition saying 'history has shown that those who oppose development slowly and eventually lose their identity.'
Hailed as the 'most ambitious economic reform' in India, the GST was launched in the midnight session of the Parliament, in the presence of President Pranab Mukherjee, Vice President Hamid Ansari, Prime Minister Narendra Modi and Lok Sabha Speaker Sumitra Mahajan, among other dignitaries.
Ending more than 11 years of hectic argument among the Centre and the states, the GST is set to completely transform the indirect taxation landscape in the country involving both the Central and State levies.
In a departure from the normal practice, GST will be administered together by the Centre and States.
The biggest tax reform since independence - GST - will pave the way for realisation of the goal of One Nation - One Tax - One Market.
It will benefit all the stakeholders namely industry, government and consumer as it will lower the cost of goods and services give a boost to the economy and make the products and services globally competitive, giving a major boost to 'Make in India' initiative.
Under the GST regime, exports will be zero-rated in entirety unlike the present system where refund of some of the taxes does not take place due to fragmented nature of indirect taxes between the Centre and the States.
However, GST will make India a common market with common tax rates and procedures and remove economic barriers. GST is largely technology driven and will reduce the human interface to a great extent. GST is expected to improve ease of doing business in India.
-ANI