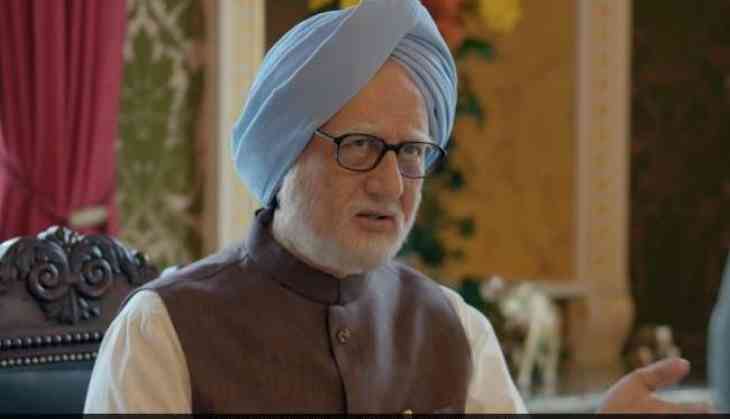 Anupam Kher as PM Manmohan Singh (NDTV)
The politics over the movie 'The Accidental Prime Minister,' has begun as the Congress party has issued warning to the makers and the BJP is alleging a rivet against it.
The movie will be released on January 11th and in the election season, the Congress is not ready to compromise with its winning run and has issued warning over the movie getting released next year.
The Youth Congress of Maharashtra has issued a statement, led by its president Satyajeet Tambe Patil, to the makers of the film and to Sanjaya Baru, the author of The Accidental Prime Minister to organize a special screening of the movie for them before its release.
Riveting tale of how a family held the country to ransom for 10 long years. Was Dr Singh just a regent who was holding on to the PM's chair till the time heir was ready? Watch the official trailer of #TheAccidentalPrimeMinister, based on an insider's account, releasing on 11 Jan! pic.twitter.com/ToliKa8xaH

— BJP (@BJP4India) December 27, 2018
Patil, who analyzed the trailer said, "facts have been played with and presented in incorrect manner with regards to the ex-prime minister Manmohan Singh, UPA chairperson Sonia Gandhi and Congress party to malign the image of the party."
Senior Congress leader and MP, P.L Punia has stated that "This is a BJP game, they know 5 years are about to complete and they have nothing to show to the people so they are using these tactics to divert attention."
The BJP yesterday had tweeted from its official handle, "Riveting tale of how a family held the country to ransom for 10 long years. Was Dr Singh just a regent who was holding on to the PM's chair till the time heir was ready? Watch the official trailer of The Accidental Prime Minister, based on an insider's account, releasing on 11 Jan!"
PL Punia, Congress MP on #TheAccidentalPrimeMinister trailer tweeted from BJP handle: This is a BJP game, they know 5 years are about to complete and they have nothing to show to the people so they are using these tactics to divert attention. pic.twitter.com/Vcc7mkYfo9

— ANI (@ANI) December 28, 2018
The letter written by the Youth Congress also reads, "we demand that same should be edited and deleted from the movie, which can be concluded by us only after viewing the movie". If not, he warned of "other options."
Also read: AIMIM's Asaduddin Owaisi rejects Triple Talaq Bill, says, 'Why target Triple Talaq but support