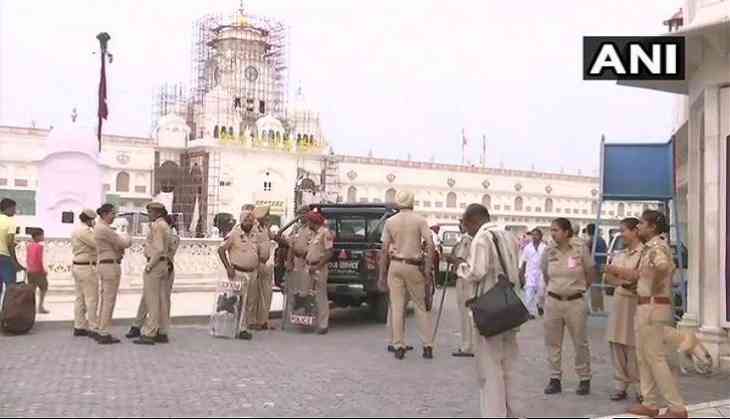 Amid pro-Khalistan slogans in Golden Temple and protest against Jathedar Akal Takht Giani Gurbachan Singh, Shiromani Gurdwara Parbandhak Committee (SGPC), Sikh's single largest representative body observed the 34th anniversary of the Operation Bluestar at Akal Takht situated in the complex. The security has been tightening outside the Golden Temple in Amritsar to prevent clashes.
Punjab police administration, as well as the SGPC, had made elaborate security arrangements. A large number of policemen, including senior police officers, in plain clothes were present in and outside of Golden Temple complex.
Few men and women among the large crowd present at the golden temple stood up as Gurbachan Singh started his address. The radical elements were caught and beaten up by SGPC task force members. At least one person was injured, reports Economic Times.
"A turban was thrown on the ground in the clash," one eyewitness told news agency. Sikh men and women were heard shouting "Mai ni manda tenu (I don't recognize you), tu sada jahtedar nai (You are not our jathedar)".
All India Sikh student federation (AISSF) raised pro-Khalistan slogans inside the Golden temple. Many Sikh's especially Sikh youth were seen wearing T-shirts with photographs of Jarnail Singh Bhinderanwala and Referendum 2020 slogans, as reported by TOI.
The Army had carried out Operation Blue Star in June 1984 to smoke out hiding terrorists from the Golden Temple complex.
Also read: Amid row, Pranab Muherjee to attend RSS event today; BJP chief Amit Shah met Uddhav Thackeray to resolve issues in Mumbai