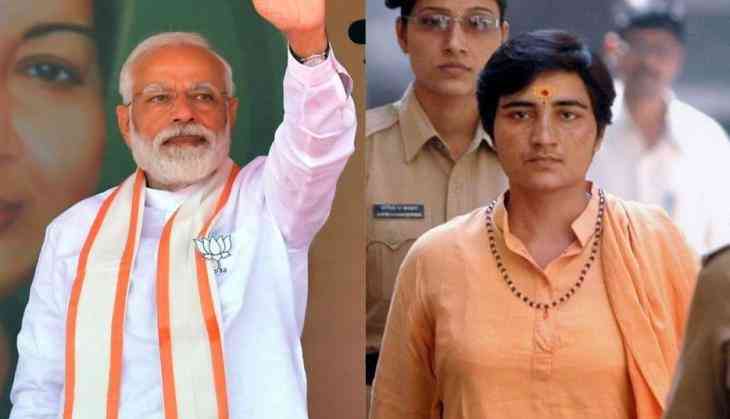 After a landslide victory, Prime Minister Narendra Modi met newly-elected MPs in the recent concluded Lok Sabha election and greeted them in Central Hall of Parliament. However, one picture caught everyone's attention when Sadhvi Pragya Thakur, newly elected Bhopal MP got ignored by PM Modi.
Notably, days before the final phase of LS polls, Sadhvi Pragya termed Nathuram Godse, who assassinated Mahatma Gandhi, a patriot. Thakur's remark irked row and following which the party had to face criticism.
Opposition attacking the saffron party asked it to clarify its stand over Pragya Thakur's remark and Narendra Modi's official statement on the case was tweeted by BJP's official account. In the official statement, Modi said 'Whatever Sadhvi Pragya said about Mahatma Gandhi and Nathuram Godse that is horrible and it is totally hateable. It can't be said in the dignified society, although Pragya has made apologizes but I won't be able to forgive her.'
Sadhvi Pragya the allegedly accused of Malegaon Blast during the campaigning of general elections said that Nathuram Godse was a patriot and will always be. That really faced criticism for BJP and even some asked Modi to throw Sadhvi Pragya from their party.
However, now Sadhvi Pragya is already in trouble as PM is not happy with her, but it is a different chapter that she has won Bhopal constituency seat with a huge margin and she also defeat a strong leader of Bhopal, Digvijaya Singh.
Also Read - P Chidambaram appeals Rahul Gandhi not to resign as Congress workers will do suicide