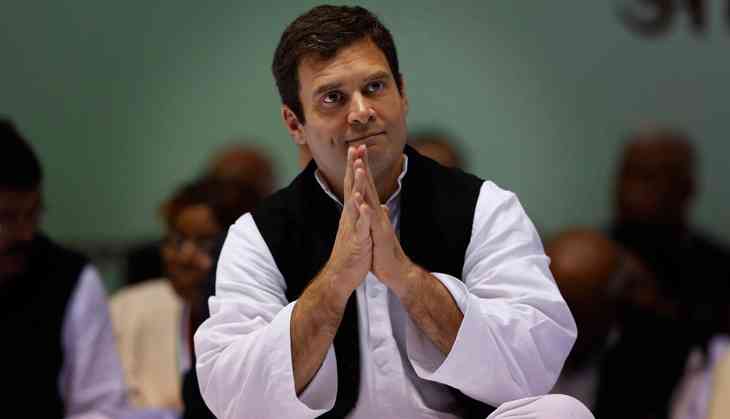 The Congress president Rahul Gandhi on Monday while attacking Prime Minister Narendra Modi referred Pakistan-based terrorists organisation Jaish-e-Mohammed's chief as 'Masood Azhar Ji' following which, the Congress supremo faced a backlash. Slamming Rahul Gandhi over his comment, the ruling Bhartiya Janta Party said: "Rahul loves terrorists".
While speaking at a meeting of Congress workers in Delhi, Rahul Gandhi attacked the BJP government and said, "These people with 56-inch chest, you would recall, in their previous government, the current National Security Advisor Ajit Doval went in an aircraft with Masood Azhar ji and handed over Masood Azhar there in Kandahar."
#WATCH Rahul Gandhi in Delhi: You would remember that during their(NDA) last Govt, current National Security Advisor Ajit Doval went to Kandahar to hand over Masood Azhar. pic.twitter.com/xTErFR6rjV

— ANI (@ANI) March 11, 2019
Pointing out it was Azhar who was responsible for the Pulwama terror attack and killing of 40 CRPF soldiers on February 14. Azhar's terrorist group JeM has claimed responsibility for the attack.
Reacting to the Congress president's remark, BJP leader and Union minister Ravi Shankar Prasad said, "Come on Rahul Gandhi Ji! Earlier it was the likes of Digvijay Ji who called Osama Ji and Hafiz Saeed Sahab. Now you are saying 'Masood Azhar Ji'. What is happening to Congress Party?" Prasad also said Rahul Gandhi has caused huge pain to families of martyrs and embarrassed the country with his comments.
As national election is around the corner, Prasad said Rahul Gandhi's remarks showed that Congress can get to any extent for votes. "The Congress, on one hand, insults our armed forces and Indian Air Force by seeking evidence of their valour but honours a murderer, a terrorist like Azhar," Prasad said.
Meanwhile, rubbishing Rahul Gandhi's term for Masood Azhar, Congress spokesperson Randeep Singh Surjewala accused the BJP and media of deliberately twisting Gandhi's remarks.
"Two questions to BJP & select Bhakt Media, who deliberately seek to twist the 'Masood' sarcasm of Rahulji- 1) Did NSA Doval not escort & release terrorist Masood Azhar in Kandahar? 2) Did Modiji not invite Pak's rogue ISI to investigate Pathankot terror attack?" Surjewala said.
Also read: Watch: NSA Ajit Doval handed over Masood Azhar to Pakistan, says Rahul Gandhi