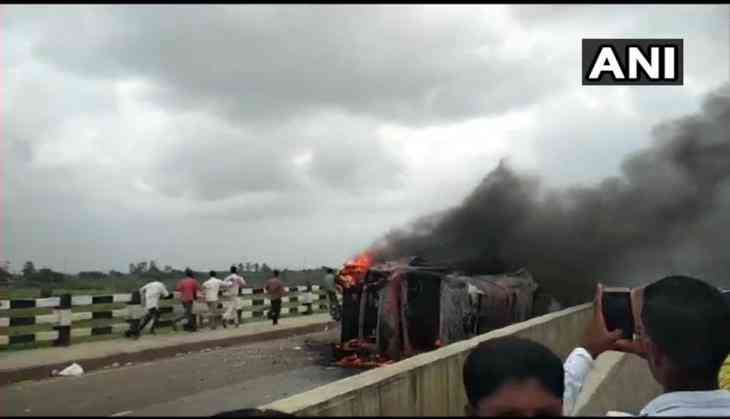 Massive protests by Maratha Kranti Morcha workers across Maharashtra has intensified the situation after the protestors set several vehicles on fire. The protestors burnt vehicles in Aurangabad's Gangapur, Latur, Parbhani and another place, demanding for reservation for Maratha community in government jobs and education, and martyr's status.
The protestors called state-wide bandh on Tuesday, July 24, a day after the death of 27-year-old protester Kakasaheb Shinde who jumped in the river.
Maharashtra: Maratha Kranti Morcha workers set a truck ablaze in Aurangabad's Gangapur during their protest, demanding reservation for Maratha community in govt jobs & education. pic.twitter.com/NiU8RmcAjD

— ANI (@ANI) July 24, 2018
The agitators even resorted to stone pelting on the police force. At least people also attempted suicide in Aurangabad. Both of them have been hospitalised. On Monday, Kakasaheb Shinde, a resident of Kaygaon village in Aurangabad district, jumped off a bridge over Godavari river, police said. He was rushed to a nearby hospital where he was declared dead, they said. This incident triggered Maratha agitation leading Maharashtra Bandh.
Jayant Sonavne attempted suicide by jumping into river & Jagannath Sonavne alias Guddu consumed poison in Deogaon Rangari in Aurangabad. They're in the hospital
The incident came a day after Maharashtra CM Devendra Fadnavis said he was cancelling his visit, scheduled today, to a temple in Pandharpur after protesting Maratha outfits threatened to disrupt the event. However, the Maratha groups have assured that they will not stop public transport and emergency services from operating.
Also read: Meerut: Upper caste men allegedly assaulted a Dalit youth, forced to abuse Dr BR Ambedkar; video goes viral