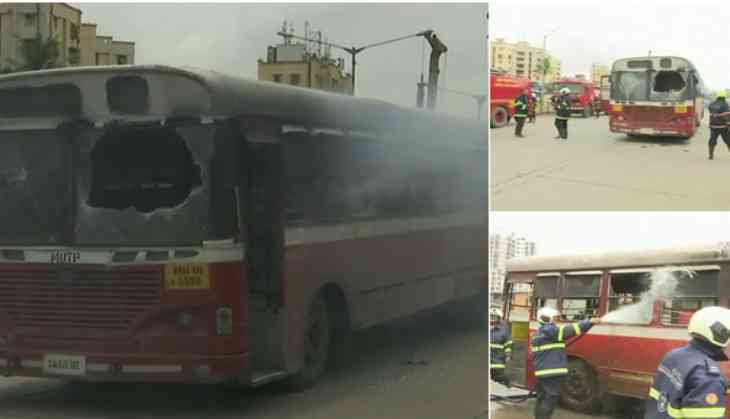 Massive protests by Maratha Kranti Morcha workers across Maharashtra enters day two and has intensified the situation in the state even the protestors walk into the economic capital Mumbai and its surrounding areas. The agitators, Maratha outfits, demanding reservation for the community have called for a shutdown in Maharashtra. On day two protests, the Maratha Kranti Morcha, which is spearheading the quota stir across the country, has called for a Mumbai bandh, while the Sakal Maratha Samaj has called for a shutdown in Navi Mumbai and Panvel.
The protestors have attacked several buses in Mumbai and disrupted local train services. The police in Mumbai, Thane, Palghar, Raigad and Satara districts were on their toes to prevent any law and order problem during the bandh.
DCP Deepak Deoraj, PRO, Mumbai Police, said that all the necessary deployments have been made in Mumbai. He said, " The situation should be brought under control at the earliest. The CM should invite prominent representatives from the community participating in the protest for talks and start the process of resolving the stand-off. There was never any law and order issue."
Protests affected areas in Mumbai:
As per reports, agitators blocked some areas there, including the key Teen Hath Naka junction, resulting in huge traffic jams on the city's main entry and exit points. They also threw stones at trains passing through Thane and Ghansoli, Navi Mumbai and services were halted briefly.
Most shops and commercial establishments remained shut in Mumbai's important pockets like Dadar, Andheri, Mulund, Kanjurmarg, Borivali, Kandivali, and in many other places as Maratha activists went around requesting shopkeepers to down shutters and express solidarity with their cause.
The Maratha Kranti Morcha, which is spearheading the agitation demanding reservation for Maratha community in government jobs and education, and martyr's status.
Also read: Maharashtra Bandh: Bus services suspended after stone pelting at 'best buses'; one constable dead