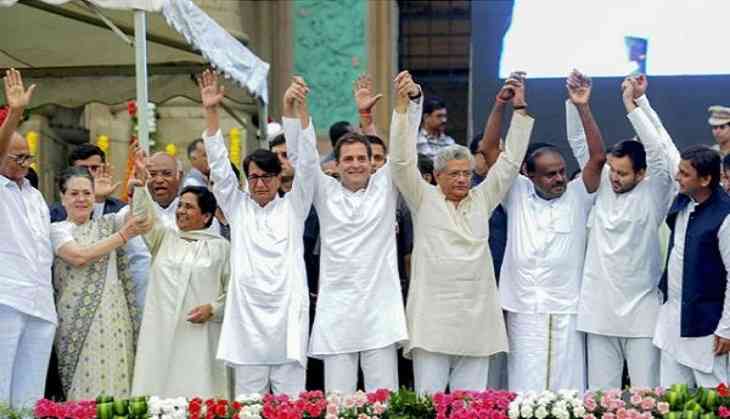 Even before the results of the state elections are out, the Opposition is marching ahead to check the course of the grand alliance for the Lok Sabha polls in 2019.
The meeting which has been called by the Andhra Pradesh CM N Chandrababu Naidu, is a gathering for all the non-BJP parties to clear out their doubts and march with their respective roles for the upcoming election.
The sources have confirmed that BSP supremo Mayawati might not be joining the meeting today and that due to her getting singled out by the Congress party, she might not be that happy in the formula of "Mahagathbandhan."
To add on, the sources have also said that a common absentee in such meetings, Delhi CM and AAP's convener Arvind Kejriwal will be attending the meet this time.
Although the confusion over the parties joining the grand alliance continues, wherein the Odisha CM and Biju Janta Dal chief Naveen Patnaik has maintained a considerable distance within the non-BJP alliance as seen while voting for the Rajya Sabha deputy chairman was on, the nine lawmakers of the BJD had voted for the BJP led candidate, in what would have been a tightly-fought election.
Same story goes with the Telangana CM K Chandrashekhar Rao, who might have rallied against the BJP in the state polls but the news in the corridors of Delhi suggests that he will join the NDA as and when required in 2019, post or pre-election.
Now, if the fulcrum of the grand alliance is Congress party, then might have to prove their worth in the bipolar contests of Rajasthan, Madhya Pradesh and Chhattisgarh, so that the other regional players are comfortable joining hands with Rahul Gandhi, unlike Akhilesh Yadav and Mayawati, who have certain reservations with him.
Also read: LK Advani was made aware about the Kargil conflict just before the war, claims ex RAW cheif AS Daulat