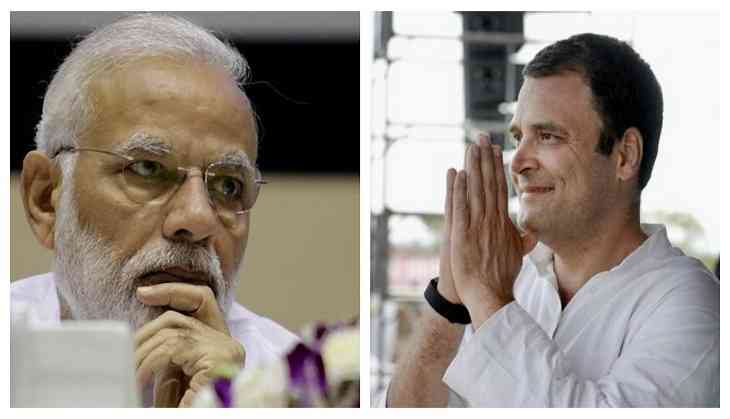 PM Narendra Modi and Rahul Gandhi
The BJP will "struggle" to receive a simple majority of 272 and the Congress has a "fair chance" to form a coalition government according to Fitch Solutions Macro Research.
As per the FSMR, which is affiliated to Fitch Ratings, has claimed that no party will receive a complete majority in the 2019 polls and which simply indicates that both Congress and BJP will try to cobble up an alliance with the regional players.
The Fitch also said in the report that "We at Fitch Solutions are bucking the overwhelming consensus at this juncture that the BJP will most likely form the next government after the upcoming elections."
The report added that the recent political sop given by PM Narendra Modi's government during the Budget session of 2019 will have "minimal effect" on the voters. Some of the schemes are farmers income support etc. The report further says that the recent terror attack in Pulwama allows the ruling BJP to "drum up nationalistic sentiment and to rally the electorate behind the BJP."
The BJP had lost 3 back to back state election of Hindi heartland to the Congress party under the leadership of Rahul Gandhi and it has shown the decline of popularity of PM Modi and BJP.
"A recent India Today poll predicted the ruling National Democratic Alliance coalition could fall short of the majority mark in the 543-seat parliament and win 237 seats."
Also read: Apna Dal's Anupriya Patel threatens to exit alliance as BJP calms other allies in UP