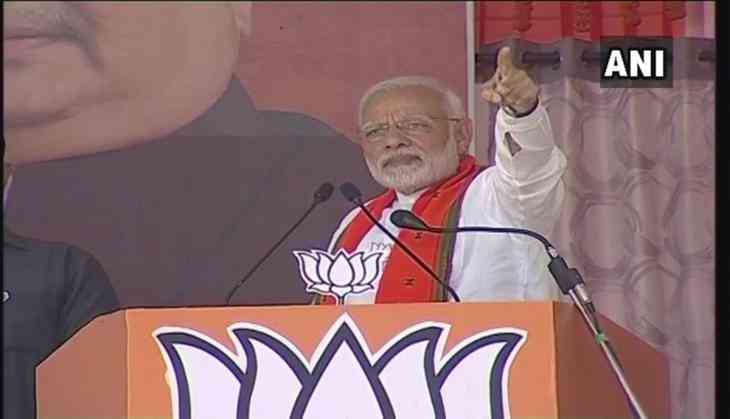 PM Narendra Modi has praised the initiative of the union cabinet to build a corridor along the Kartarpur Sahib, and said that it will go down in history as bridging gap for India and Pakistan relation.
The Prime Minister has compared the Corridor with the Berlin Wall of Germany, which eventually fell and the peace and harmony had prevailed in the East andWest Germany since 1989. Modi asserted that if the Berlin Wall could fall then the Kartatrpur Corridor will act as a bridge to correct the India, Pakistan relation.
PM Narendra Modi said, at a Gurupurab function, at Akali Dal President Sukhbir Singh Badal's house that "Had anyone ever thought that the Berlin Wall would fall. May be with the blessings of Guru Nanak Devji, this Kartarpur corridor will not just remain a corridor, but act as a bridge between the peoples of the two countries."
PM Modi added that "When I was the Chief Minister of Gujarat, I ordered to re-construct the sacred place where Guru Nanak's "padukaon" had been kept. The place had got damaged due to earthquake. Today, it has become a site of "World Heritage". With the blessing of Guru Nanak Dev-ji, Kartarpur Corridor is not only a corridor, it also could be a reason to connect people."
The Pakistan government has agreed to build the Kartarpur Corridor next year, which will mark Guru Nanak Dev's 550th Birth Anniversary. Earlier, Congress leader and minister in Punjab government, Navjot Singh Siddhu had demanded that the corridor should be build across the Kartarpur.
Also read: Ahead of VHP's Dharam Sabha in Ayodhya, 'Ram Temple Bill to be tabled in winter session of