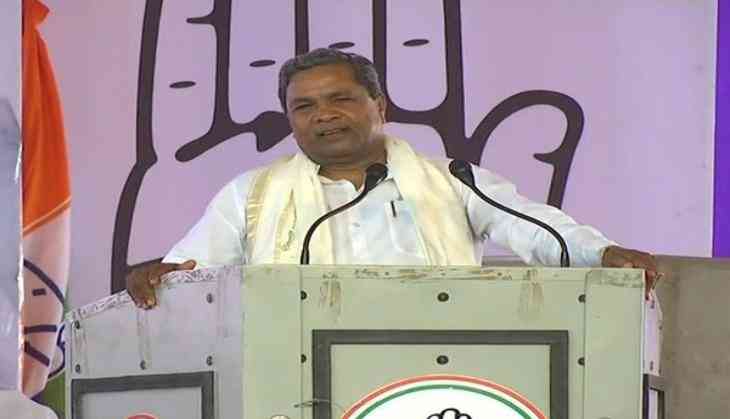 Launching severe attack on the Bharatiya Janata Party (BJP), the Chief Minister of Karnataka Siddaramaiah targeted the flagship slogan of the party 'Sabka Sath, Sabka Vikas'. Twisting the slogan, he said "It is not Sabka Sath, Sabka Vikas. It is Sabka Sath, Sabka Vinash".
Addressing a gathering of people at the Kalidas Educational Society in Badami, where he is contesting from, he said that BJP is playing communal and divisive politics and he asked the people to choose between development and communal violence.
Highlighting his party's achievements, he said "No other party has done as much work as we have in the last five years. We have performed at all levels, even bringing development to 'microscopic communities' such as the Bohvis and the Savita Samaj."
He further said "If you elect us again we will continue to do the work we have been and alleviate poverty by brining poor communities into the middle class."
Siddaramaiah is contesting elections from two constituencies Badami and Chamundeshwari.
Siddaramaiah questioned the 'hollow promises' of Prime Minister Narendra Modi. He also that if the BJP was serious about secularism, tickets would have been given to Muslims and Hindus too.
"The BJP is known for lighting a fire between religious communities. Would you want to elect them?" he said.
He is also scheduled to visit Shivayogi Mandir that is considered sacred by the Lingayat community.
Earlier, the Congress won Badami seat in 2013 by defeating JD(S) candidate Mahantesh Mahamadpur. The BJP came on the third position. But in 2008, the BJP had won the seat.
Also read: Karnataka Assembly Elections: Karnataka CM 'Sota...ramaiah' caught 'snoring' in a Congress rally; video goes viral