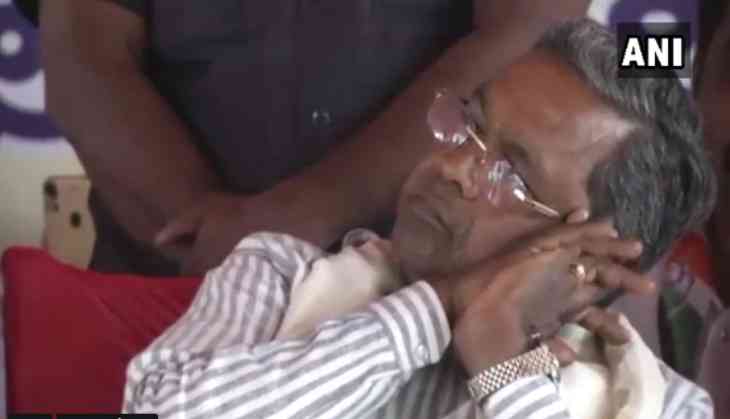 Karnataka CM and Congress leader Siddaramaiah were caught snoring on camera during a rally in Kalaburagi on Monday. In the video, CM Siddaramaiah saw sleeping was shared by news agency ANI on it Twitter handle after which it went viral and caught the attention of users who got chance to make fun of him. In the video, along with Siddaramaiah Congress leader Mallikarjun Khadge is seen sitting next to him.
In no time the video went viral on the social media, tickling Tweeples to enjoy the moment. One of the users called him 'sotaramaiyaa' and 'Nidramiah.'
#WATCH Karnataka Chief Minister Siddaramaiah seen dozing off during a rally in Kalaburagi earlier today. pic.twitter.com/PjlNVKovlP

— ANI (@ANI) April 30, 2018
On Sunday, the chief minister had attacked Modi-led Centre of "not fulfilling" several election promises. "This election is also about broken promises of the @narendramodi Govt. 1 Black money didn't become white. 2 People didn't get Rs 15 lakh in their accounts. 3 People's money lost value due to demonetisation. They were made to stand in line to get their own money," Siddaramaiah said in a series of tweets.
"Modi also failed to provide employment and asked job aspirants to sell pakodas and check the increase in fuel prices despite international crude oil prices plummeting," Siddaramaiah said.
Also read: JEE Main Result 2018: Andra Pradesh Suraj Krishna tops in IIT Mains Paper I, secures All India Rank AIR 1; here's the list of top ten rankers