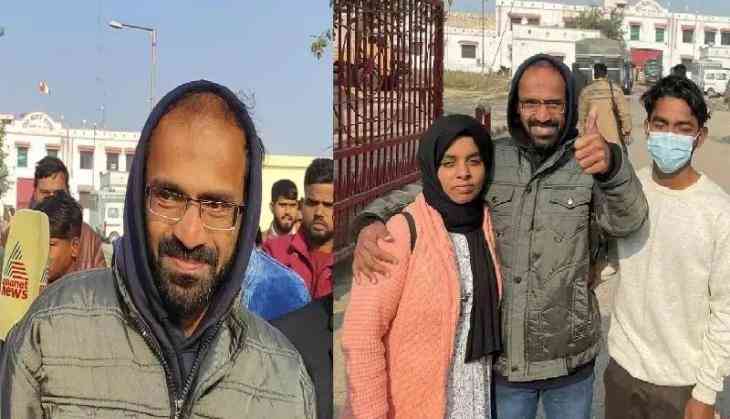 Journalist Siddique Kappan.
Journalist Siddique Kappan was on Thursday released from the Lucknow district jail in Uttar Pradesh where he spent over two years after his arrest under charges including the Unlawful Activities Prevention Act (UAPA) and the Prevention of Money Laundering Act (PMLA).
Kappan who was in prison since October 5, 2020 after being arrested by Uttar Pradesh police for travelling to Hathras to report on the Hathras rape case. A special Sessions Court in Lucknow on Thursday signed Kappan's release order more than five weeks after he got bail in the PMLA case lodged by the Enforcement Directorate (ED).
The journalist along with three others were arrested at the Mathura toll plaza by the Uttar Pradesh police on charges of UAPA for inciting violence in the alleged rape of a young woman whose death sparked protests across the country. Later he was booked under other cases including in the PMLA case lodged by the ED.
Kappan, who hails from Malappuram in Kerala was working in Delhi and was on his way to Hathras when he was arrested.
Soon after his release said, "I have come out of jail after 28 months. I want to thank the media for supporting me. False allegations were put against me. I am happy to be out now."
Congress leader P Chidambaram tweeted in favour of the journalist claiming Article 21 (freedom of expression) has triumphed. In his tweet, he said, "I am glad that eventually Article 21 of the Constitution has triumphed and Siddique Kappan, the journalist from Kerala, is free. Trial Court judges must push back on the demand for judicial custody which is really pre-trial incarceration."
A single bench of Justice Dinesh Kumar of the Lucknow bench of the Allahabad High Court granted bail to Kappan on December 23, 2022, in the money laundering case lodged against him by the Directorate of Enforcement.
Due to the winter break and a long procedure of verification of sureties, it took more than a month for Siddique Kappan to move out of Lucknow jail.
Previously, Kappan was granted bail on September 9, 2022, by the Supreme Court. In the apex court's order, the then Chief Justice UU Lalit, Justice S Ravindra Bhat, and Justice PS Narasimha had directed that the petitioner would be released on bail in the next three days after applying in the trial court.
The journalist has been accused of inciting violence in the Hathras case and having a connection with the Popular Front of India (PFI), which was banned by the Centre.
(ANI)
Also Read: Thought Nirmala Sitharaman would give boost to Karnataka in Union Budget: DK Shivakumar