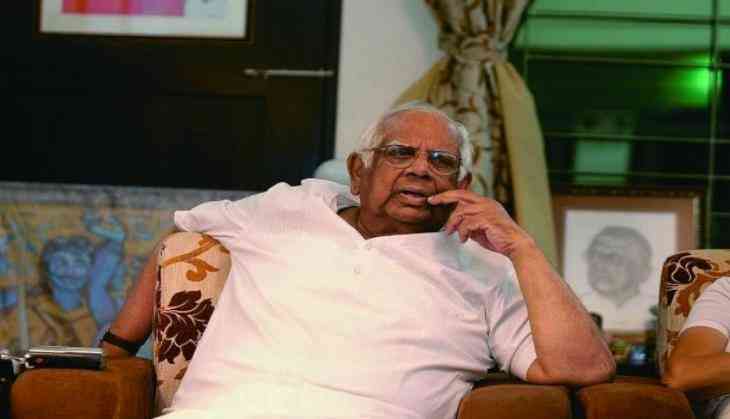 Chief Minister Mamata Banerjee on Monday announced that former Lok Sabha Speaker Somnath Chatterjee will be given the highest state honour in the West Bengal Assembly.
Banerjee also said that the mortal remains of Chatterjee would be taken to the private hospital where he had donated his body for medical research.
Giving details of his last journey, the chief minister said, "Chatterjee's mortal remains will be taken from Belle Vue Clinic to the High Court since he was associated with it for quite a long time. From the court, he will be taken to the State Assembly where he will be given the highest state honour. After keeping (his body) there for few hours, his family will take the mortal remains to their residence and then to SSKM Hospital where he had donated his body for medical research," she said.
Somnath Chatterjee served the Communist Party of India (Marxist) for four decades, from 1968 to 2008. A well-learned leader, Chatterjee was respected across party lines.
Earlier in the day, Banerjee condoled Chatterjee's death by calling it a great loss. "Saddened at the passing away of former Lok Sabha Speaker Somnath (Da) Chatterjee. My condolences to his family and admirers. This is a great loss for us all," she tweeted.
President Ram Nath Kovind, Prime Minister Narendra Modi, Vice President Venkaiah Naidu, Lok Sabha Speaker Sumitra Mahajan, former vice-president Mohd Hamid Ansari, Congress president Rahul Gandhi, External Affairs Minister Sushma Swaraj, West Bengal Chief Minister Mamata Banerjee, Delhi Chief Minister Arvind Kejriwal and former finance minister P. Chidambaram also paid their tributes to Chatterjee.
The octogenarian leader was admitted to a private hospital in Kolkata on Friday. He breathed his last today at 8.15 am following a cardiac arrest.
One of the longest-serving parliamentarians in India, Chatterjee was suffering from kidney ailment and was put on ventilator on Saturday.
(ANI)