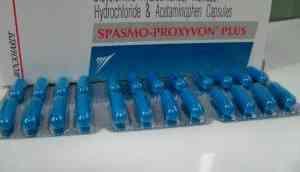 A team of the Imphal West Narcotic Cell on 8 May seized more than 7000 pieces of Spasmo Proxyvon (SP) capsules (Psychotropic drugs) worth Rs. three lakh from a person identified as Abdul Sattar near Sanjenthong.
The SP capsules were found in a bag of flour and black plastic.
These capsules are used for headache, toothache, opioid addiction, ear pain, relief of mild to moderate pain, painful menstruation and other conditions.
It contains Dextropropoxyphene, Dicyclomine, and Paracetamol as active ingredients.
Spasmo Proxyvon Capsule works by relieving smooth muscle spasms of the gastrointestinal tract; being a centrally acting opiate analgesic; increasing the pain threshold and increases the blood flow across the skin, heat loss and sweating.
Further details are awaited.
-ANI