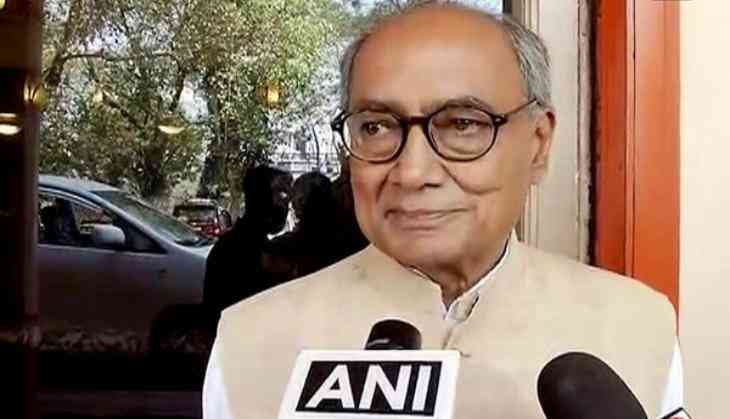 Digvijaya Singh slams PM Modi over UID for cows (ANI)
Taking a jibe at Prime Minister Narendra Modi over the issuance of Aadhar Card-like Unique Identification Number (UID) to cows and cattle in order to protect them and prevent their smuggling across the India-Bangladesh border, senior Congress leader Digvijaya Singh on Monday asked the Centre some pertinent questions regarding the procedure.
Digvijaya asked who would bear the cost of such an operation and whether the Muslim animal keepers would be assured safety after this move.
The Congress politico took to Twitter and posted a series of tweets in Hindi to vent his ire.
'Modi Ji ko kya ho gaya hai...abb gaay bhainson ka aadhar card banaa rahe hain. Abb gaay bhainson ka aadhar card banega aur usko banaane ka kitna kharch aayega? Uska theka bhi shaayad 'gau rakshakon' ko milega?' (What has happened to Modi ji? Now, Aadhar Cards will be made for cows and cattle too. What will be the cost involved? And who will get to bear it?) he tweeted.
'Kya uske baad bhi Muslim pashu paalakon ki 'gau rakshakon' se suraksha ho paayegi?' (Will, after this, the Muslim animal keepers will be assured safety from the cow vigilantes?)
A day before, the Centre told the Supreme Court that cows would soon have UID numbers which would have all details regarding their lineage.
'The UID number should have age, breed, sex, lactation, height, body, color, horn type, tail switch and special marks details of the animal. The UID for a cow and its progeny should be made mandatory across India,' the Centre said.
Emphasizing on the prohibition of smuggling of animals across Bangladesh, the Centre said that active support and cooperation should be sought from the public.
'People should be asked to give information related to movements of animals on roads through toll-free helpline numbers,' the Centre's report added.
The recommendations come in the backdrop of various incidents of cow vigilantism being reported across the nation.
-ANI