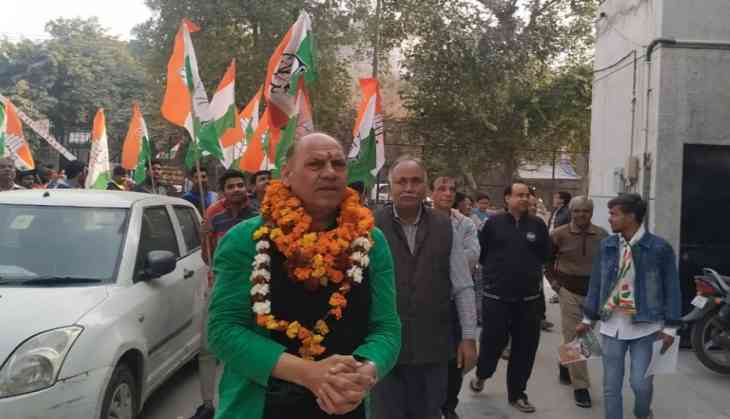 Mukesh Sharma (File Photo)
Even the final poll result is yet to be announced by the Election Commission, it seems Congress has accepted its defeat looking at the early trends of the Delhi Assembly elections which have given the lead to Aam Aadmi Party, the Congress candidate from Vikaspuri Mukesh Sharma accepted defeat even before the results were announced.
Congress candidate from Vikaspuri Mukesh Sharma has accepted his defeat even before the results were announced.
Taking to Twitter Sharma said: "I accept my defeat, thanking all the voters and Congress workers of Vikaspuri constituency and hope that there will be all-round development of the area."
I will continue to fight for the all-round development of Delhi, Vikaspuri and Uttam Nagar constituencies in future also," he added.
As per the latest trends, The AAP is leading on over 50 seats, while BJP is leading on 16 seats.
Prominent among those who are winning from their seats include, CM Arvind Kejriwal, Manish Sisodia, and Raghav Chadha.
While Kejriwal is leading by more than 4,000 seats, deputy CM Sisodia is from Patparganj seat by a very thin margin.
The counting of votes for 70 seats of the Delhi Assembly began amid tight security at 8 am today.
Delhi went to polls in a single-phase on February 8. The Delhi Assembly Election results 2020 will be announced today to determine the fate of the Arvind Kejriwal-led AAP government.
AAP, BJP, and Congress are the main political parties in the fray. The primary fight is between the ruling AAP and the BJP which is seeking to make reentry into the state politics in the national capital after over 20 years.
Also Read: Delhi Election Results: Delhi Congress chief Subhash Chopra hoping for 'good number of seats'