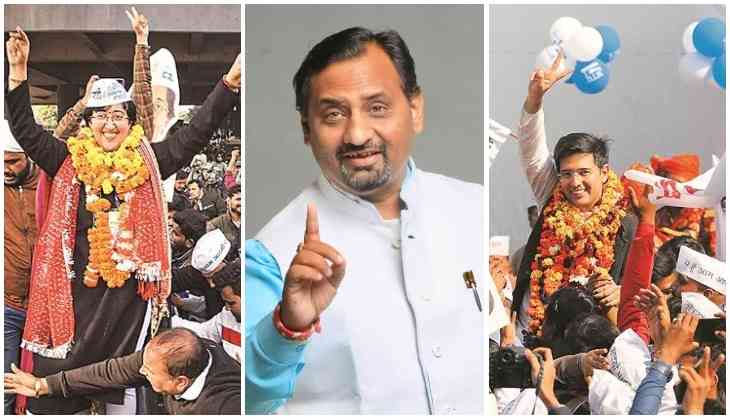 The Delhi Election 2020 has concluded with a massive victory for Arvind Kejriwal-led Aam Aadmi Party (AAP). JP Nadda led Bhartiya Janata Party (BJP) ended up at a distant second while Congress failed to register a single seat in the national capital.
With the declaration of the poll results, the Delhi Assembly will witness 19-time MLAs, including former councillors, spouses of former MLAs and former Lok Sabha candidates. The AAP has 17 new MLAs while two from the saffron party will be representing their respective constituencies.
Of BJP's eight MLA, two — Ajay Mahawar, Ghonda MLA and Abhay Verma, Laxmi Nagar, — are first-time MLAs in Delhi Assembly. Though the duo is senior hands in the party's Delhi unit, they will be the first time legislators. Mahawar is the district president from North East Delhi and Verma is the state BJP vice-president.
On the other hand, the 17 first-time MLAs are from AAP. However, three-- Atishi, Raghav Chadha and Dilip Pandey--of the AAP's new MLAs have unsuccessfully contested the 2019 General Elections.

Apart from the former LS candidates, the AAP has fielded two sitting councillors--Kuldeep Kumar and Abdul Rehman. The duo successful contested the 2020 elections.
The spouses of formers MLAs have also made their entry into the Delhi Assembly. Preeti Tomar, who won from Tri Nagar, is the wife of outgoing MLA Jitender Singh Tomar.
Interestingly, the AAP had initially named Jitender Tomar as its candidate from the same constituency but later changed its candidate after the Delhi High Court set aside his 2015 election for declaring false information regarding his educational qualification in his nomination papers.
Though the party had then fielded Preeti, her husband had taken the lead during her campaign processions.
Moreover, the Rajouri Garden MLA, Dhanwati Chandela, who is a three-time Congress councillor is also a new entry to the Delhi Assembly.
She since a very young age has been associated with various political activities. Her husband, Dayanand Chandela, was elected as the BJP MLA from Vishnu Garden in 2003 and as Congress MLA from Rajouri Garden in 2008.
Rajkumari Dhillon, who joined the AAP party after quitting Congress is also a first-time MLA from the AAP. Haji Yunus is also a first-time MLA.
Dharampal Lakra from Mundka, who is the richest candidate is also a first time MLA from AAP.
Also Read: 8 AAP's women candidates who registered thumping victory in assembly polls