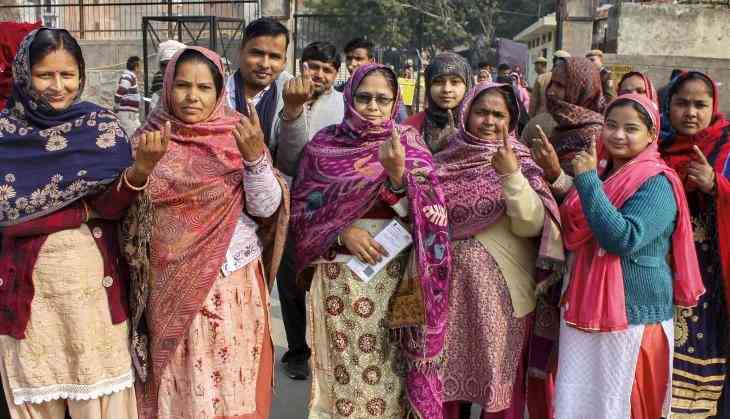 The exit polls for the Delhi assembly election on Saturday forecast a comfortable victory for the ruling Aam Aadmi Party despite a likely rise in tally for the BJP in the 70-member House.
The Times Now-Ipsos exit polls predicted that Chief Minister Arvind Kejriwal will retain his chair with the AAP winning 44 seats against 26 for the BJP.
The Republic-Jan ki Baat survey gave the AAP 48-61 seats and the BJP 9-21 seats. The TV9 Bharatvarsh-Cicero predicted 54 seats for the AAP, 15 for the BJP and one for the Congress. The exit polls predicted little improvement in the fortunes of the Congress which could not bag any seat in the 2015 polls. The AAP had scored an overwhelming victory in the 2015 polls, winning 67 seats and reducing the BJP to three.
On the other hand, an estimated 55.18 per cent of the 1.47 crore voters have exercised their franchise till 6.30 pm. As compared to the 2015 Assembly elections, the voter turnout has recorded a decline.
The voting for 70 member Delhi Assembly concluded at 6 pm. With the marginal improvement in voting in last hours, Delhi recorded 54 per cent polling till 5 PM, according to the Election Commission.

Prominent among those who cast their votes were President Ram Nath Kovind, former President Pranab Mukherjee, former Vice President Hamid Ansari, former Prime Minister Manmohan Singh, Delhi Lt Governor Anil Baijal, Chief Minister Arvind Kejriwal, Congress president Sonia Gandhi, BJP leader LK Advani, and Union Ministers Harsh Vardhan and S Jaishankar.
Congress leaders Rahul Gandhi and Priyanka Gandhi Vadra also cast their votes.
Over 1.4 crore people are eligible to cast their votes including 81,05,236 male voters and 66,80,277 female voters. There are 869 third gender voters.
Ballimaran is the smallest constituency in the national capital with an area of 2.50 square kilometres. Narela is the biggest with an area of 143.42 sq km.
The voting is being held at 13,571 polling stations of which 3,141 are critical and 144 vulnerable polling stations.
(With ANI, PTI Inputs)

Also Read: Delhi Election 2020: Voting concludes, counting on February 11