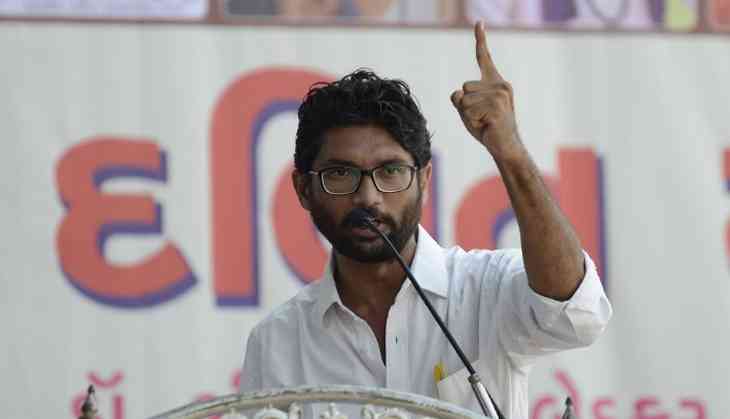 Dalit leader and Gujarat MLA Jignesh Mevani yesterday asserted of death threats he has received on a call from an unknown number and the caller warned him that he would shoot him dead. On the second day, Dalit leader Mevani once again arrested that he has once again received a call from the same number and this time caller warned him of consequences.
Mevani took Twitter to share about death threats he is receiving. He tweeted, "Today again, on the same number I received a call from the person who threatened to shoot me. Today, the same man called and threatened - 'what do you think, we are useless, wait for consequence.'" Mevani yesterday, on Twitter, said that a certain person named Ranvir Mishra has called on his registered number and his friend and colleague answered the call.
He said that the person on the other end of the call said that he will be shot dead. "7255932433 from This number I have received a call on my number 9724379940 saying he will shoot me."
"My colleague Kaushik Parmar(who is having my number these days) just informed me - " koi Ranvir Mishra ka phone tha aur bola ki tum Jignesh levani ho to tumhe goli mar dunga" (some Ranvir Mishra had called and said 'if you are Jignesh Mevani, then I will shoot you'), he tweeted.
"Few months ago, in 10-15 districts of Gujarat Dalit groups have submitted memorandums to provide me adequate or 'Y' category security. During Una struggle and my election campaigns, ppl attacked my car. Threat calls have been issued on my facebook and twitter. Bt no action is taken (sic)," Mevani said in another tweet.
Mevani also claims that Gujarat police is not takign and actions on the complaints he had filed seeking a protections, as they also want him dead. "I think Gujarat police wants me to get killed, and for this purpose, they are not providing me protection," he said.
Jignesh Mevani's name was mentioned in the Bhima-Koregaon violence case for allegedly inciting violence by inflammatory and provocative speeches on December 31, 2017, at Elgar Parishad in Pune. Yesterday, five Dalit were being held by the cops in the Bhima-Koregaon violence case.
Also read: Operation Bluestar anniversary: Pro Khalistan slogans raised inside Golden Temple on the 34th anniversary; security tightened