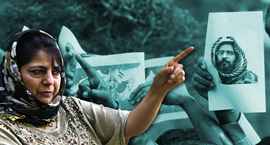 The Delhi Police have made no more arrests in the JNU case since that of JNU students' union president Kanhaiya Kumar despite claims that far-Left and Kashmiri outfits were behind the 9 February Afzal Guru protests on campus, possibly because to arrest students from Kashmir might make it more difficult for the BJP to continue its ruling alliance with the People's Democratic Party in Jammu and Kashmir, reports The Economic Times.
PDP sources said that the party has already conveyed to the BJP its "strong reservations" about reports that Kashmiri students are being investigated by the Delhi Police. The PDP's alliance with the BJP in J&K is already unpopular and PDP chief Mehbooba Mufti has so far refused to form a government with the BJP in the state since the death of her father, chief minister Mufti Mohammed Sayeed, unless certain conditions are met. J&K has been under Governor's Rule since January.
PDP sources said that their party has always opposed the hanging of Afzal Guru, which means that any attempt by the BJP-led central government to investigate Kashmiri students on the issue could jeopardise their alliance in J&K.