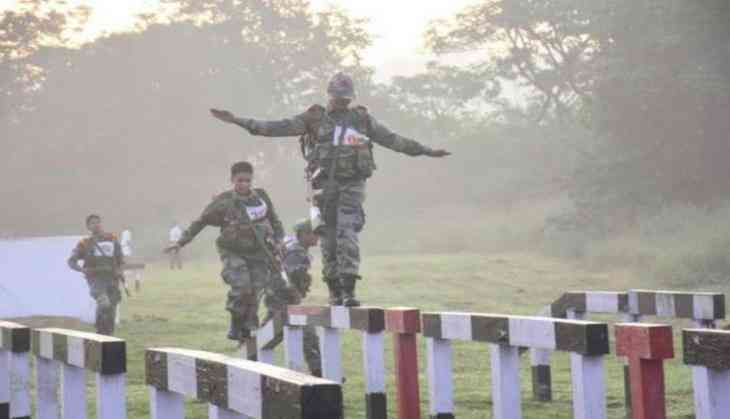 Officers' Training Academy (ANI)
For the first time in the History of Officers Training Academy, two Lady Cadets(LC) secured top honours including the coveted 'Sword of Honour' at the Passing Out Parade held in Chennai.
Academy Cadet Adjutant(ACA) Preeti Choudhary received the Sword of Honour whereas Senior Under Officer(SUO) Vreeti was awarded with the silver medal.
The Sword of Honour is awarded to the First Cadet in overall order of merit. An Officer Cadet has to perform exceedingly well in physical tests, academic training, weapon training, leadership qualities, field engineering and drill.
Both these young and inspiring ladies (now Lady Officers) from Haryana beat more than 200 Gentleman Cadets to bag top honours at the prestigious Officers Training Academy.
SUO Vreeti quit a highly-paid job in Japan as a Design Engineer before joining OTA as a Lady Cadet.
In the 55-year history of OTA, from the portals of which, 105 courses have passed out till date, it is only the third time when a Lady Cadet is winning the 'Sword of Honour'.
September 2010 was a landmark in the history of the academy when the first Lady Cadet, AUO Divya Ajith Kumar was awarded the prestigious Sword of Honour and the President's Gold Medal, a feat repeated only once later by AUO M Anjana in Mar 2015.
Among other Lady Cadets who came off with flying colours are LC Shusmita Pandey, wife of martyr Major Neeraj Kumar Pandey and LC Neeta Deswal, wife of late Major Amit Deswal who was martyred while fighting terrorists in Jammu and Kashmir.
LC Sushmita decided to don the uniform and followed her heart with determination and confidence to successfully crack the SSB Interview. She joined OTA, Chennai, to begin her training leaving her young son behind.
--ANI