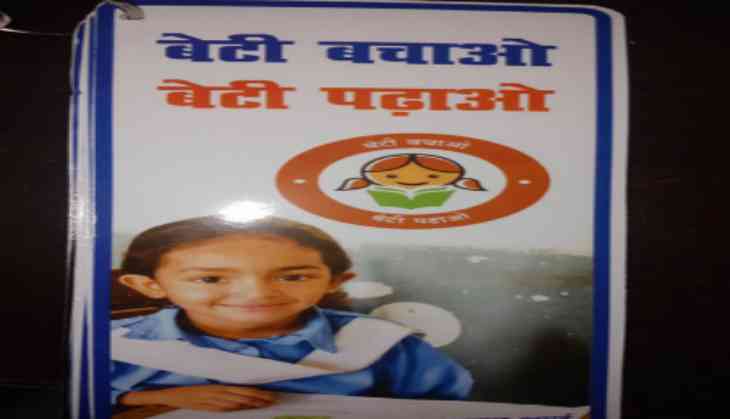 A Pakistani girl's photograph has been published on the notebook of Bihar's school in a move to promote 'Swachh Jamui Swasth Jamui' and Beti Bachao, Beti Padhao' in state's Jamui district. The notebooks were published with the Pakistani girl's photograph by Patna's Suprabh Enterprises were distributed in all the schools in Jamui. The girl in the photo can be seen smiling while drawing a Pakistani national flag in the picture. As per the report, the photograph was used by UNICEF in Pakistan to spread awareness about the education of the girl child. The photograph has triggered a controversy.
Bihar's Jamui district magistrate, Dharmendra Kumar has ordered an in-depth investigation into the matter that how the Pakistani girl's photograph was printed on nearby 5,000 notebooks which were distributed among all school in the area in December last.
Sources said children in several schools were still using those notebooks. Apart from the notebooks, the district administration also got 5,000 "cleanliness key books" distributed among schoolkids.
Speaking to ANI, District Coordinator of sanitation & water Sudhir Kumar said, "It was a mistake." The decision to print the notebooks as well as the key books had been taken by a ten-member committee, the District Water and Cleanliness Committee (DWCC), the report says and Patna-based Suprav Enterprises were given the task of printing them. "It is a grave error, and it was not spotted earlier. The proposal to print the notebooks was approved by the district magistrate Dr Kaushal Kishore," said Sudhir Kumar, the district coordinator of 'Swachh Bharat' campaign.
Photo of Pakistani girl used on notebook of 'Clean Jamui, Healthy Jamui' campaign, girl is seen painting Pakistan's flag in the photo. Notebook has been distributed in all schools in the area. District Coordinator of sanitation & water Sudhir Kumar says, 'it was a mistake' #Bihar pic.twitter.com/oicZnSBL0N

— ANI (@ANI) May 5, 2018
Also read: Tomb Turned Temple: South Delhi's Tughlaq era tomb painted white and saffron, converted into a 'Temple'; government orders probe, says zero tolerance
DWCC member Niranjan Chaudhary said: "The committee had ordered the printing of the notebooks and cleanliness key books. We had not asked the printer to put a photo of a Pakistani girl with a Pakistani flag on the covers."
The girl's photo is still available on portals of several humanitarian organisations engaged in promoting girl child education in Pakistan, including UNICEF.