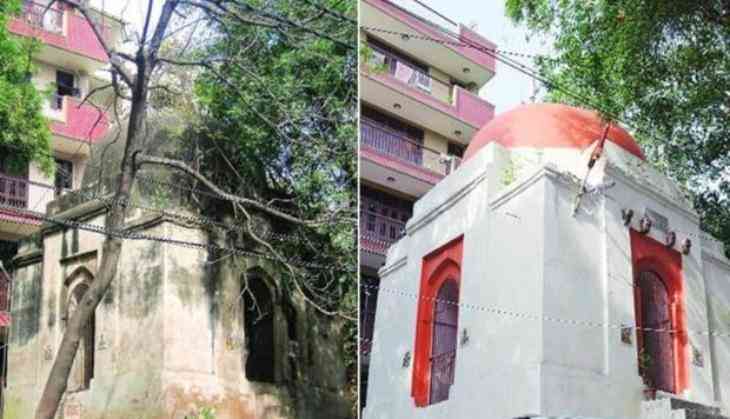 A 15th Century Tughlaq era Tomb in South Delhi's Safdarjung's Humayunpur was painted 'White' and 'Saffron' in March, turning it into a temple triggered controversy on it. The Delhi Deputy Chief Minister Manish Sisodia ordered a probe into the matter. Mr Sisodia in a letter to the Delhi government's Art, Culture and Language (ACL) Department said, "the reported incident should be handled with zero tolerance by the department as it not only violates heritage related laws but is also an attempt to disturb peace and harmony in the area".
Also read: Karnataka Election 2018: 'Alive' Hindu activist Ashok Poojary named on the BJP's 'Martyrs' list
As per the report, the Indian National Trust for Art and Cultural Heritage's (INTACH) list of ancient structures and monuments says the unknown tomb belongs to the Tughlaq era and is notified by the municipal corporation as a tomb. While another report states that state-notified tomb was converted into a temple two months ago and was painted in white and saffron colours. Statues of Hindu gods were also placed inside it, it said.
In an order issued by the Deputy CM's office on Friday, it said the damage and harm caused to a heritage property in violation of the law and it is a serious offence. Secretary (art, culture and language) to provide a detailed report to me by tomorrow (Saturday) with details of the incident and action taken by her," Sisodia said in the order.
Vikas Maloo, Head of Office (Department of Archaeology) said, "When INTACH and our department went to the site in June last year, there was trouble by the residents, so we approached police…they asked us to wait. When we approached the monument again in March, we were told that due to sealing drive in Delhi, the police force could not be deployed here. We also wrote a letter to DCP (South) regarding this."
The Archaeology Department, which falls under the ACL, has submitted a report to them, said Maloo. In his letter, Sisodia said, "It is the duty of the State Archaeology department to ensure the protection of heritage monuments listed under them and take strict action in case of a lapse." He has directed Manisha Saxena, secretary of ACL department, to submit a detailed report by Saturday.
The tomb turned temple earlier carried two benches with the name of the area's BJP councillor Radhika Abrol phogat has been reportedly removed. A fibreglass has been placed at the entrance of the temple. "In the morning, some people came and removed the chairs and covered the entrance of the temple," said Anil (52), a resident of the area.