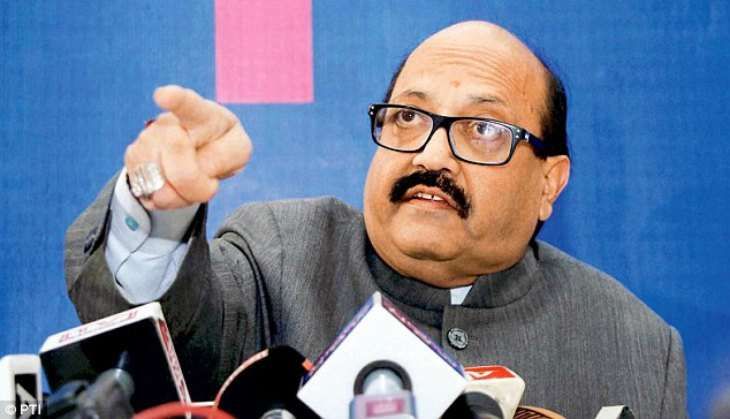 Playing the emotional card, Samajwadi Party MP Amar Singh on Monday said he won't mind his expulsion from the party but would definitely feel bad if Mulayam Singh Yadav discards him from his heart.
"I will feel bad if Mulayam Singh Yadav will discard me from his heart and if I would be expelled from the party then it will not be regretful for me," Singh told the media on his arrival at the Indira Gandhi International Airport in Delhi.
Singh further said that he would not mind being called as villain as long as Mulayam is with him.
Singh, who left for Delhi from London on Sunday, is expected to meet Mulayam and then visit the Election Commission's office at around 2 pm along with him.
Samajwadi Party general secretary Ram Gopal Yadav had on 1 January demanded for Singh's ouster from the party while addressing a party convention at the Janeshwar Mishra Park in Lucknow.
Singh had earlier clarified that he was not behind the rift in the Samajwadi Party family and requested Mulayam to save him from being portrayed as a villain in the family feud.
"I just want to request the people putting allegations against me that please let me live. If unnecessarily I am being looked as a reason of the feud in the Samajwadi family then Mulayam Singh should relieve me," Singh told ANI in London.
"I have no idea, who is getting tickets from the party and who is not. Some people are putting inappropriate posters against me, burning my effigies and blaming me for the family feud in Samajwadi Party," he said.
The party split on 1 January with a national convention declaring Uttar Pradesh Chief Minister Akhilesh Yadav the new national president, a post that was held by his father.
The convention also made Mulayam the Samajwadi Party's patron.
Admitting that he has taken a 'tough' stand, Akhilesh on 1 January justified the turn of events in the Samajwadi Party.
"Sometimes to protect the ones you love you must make the right decision. What I did today was a tough decision but one that I had to take," he tweeted.
-ANI