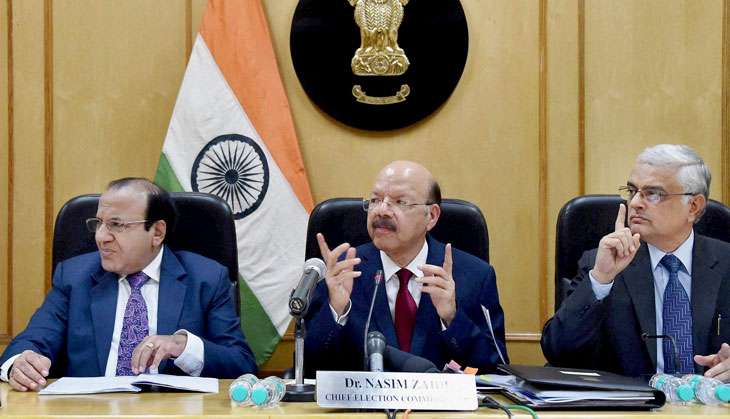 It is not feasible to extend alternative voting rights to 'domestic migrants' as of now on the lines of service voters or overseas Indians, the Election Commission has said.
A report prepared by a committee for the Commission on the issue said since it is difficult for it to track the movement of such migrants, extending them alternative voting rights such as e-ballot is not feasible at present, sources said quoting the document.
The Commission is of the view that 'domestic migrants' can register themselves as voters in the area they move for employment.
The rules, sources in the Commission said, are easy for anyone to register as voter. As per rules, the day a person moves in at a new address, he or she is free to apply as a voter.
But such options can be explored when stronger and better data are available on such voters, sources said quoting the report.
The report has been submitted to the government as well as the Supreme Court which was hearing a case related to alternative voting rights, the sources said.
Section 20 of the Representation of the People Act, 1950, dealing with the definition of 'ordinary citizen' and Section 60 of the Representation of the People Act, 1951, dealing with 'special procedure for voting by certain classes of persons', will have to be amended to grant alternative voting options.
In 2015, several Rajya Sabha members had slammed the government for ignoring migrant workers while looking to grant alternative voting facility to overseas Indians.
Following the demand, an inter-ministerial group was asked by the Prime Minister's Office to look into the feasibility of granting domestic migrant workers alternative voting facility.
The panel also looked into the feasibility of brining a bill to extend such alternative rights to overseas Indians.
The service voters were later added as part of the terms of reference of the group.
The service voters have recently been allowed to receive their postal ballot through electronic means by changing electoral rules.
A draft bill to extend e-postal ballot and proxy voting facility to overseas Indian voters came up before Cabinet on January 24, but the matter was deferred.
--
PTI