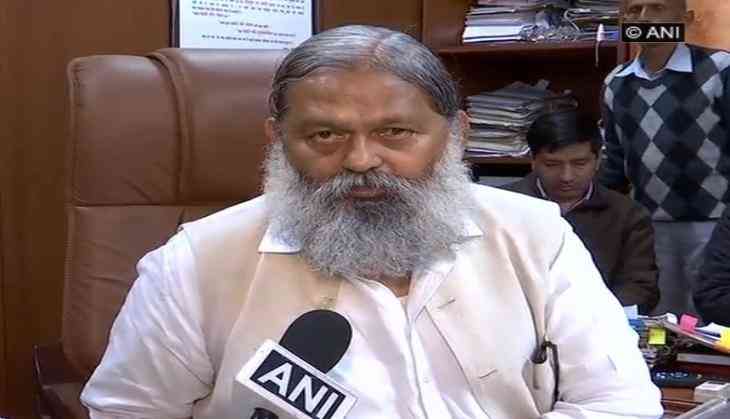 Haryana's Health Minister Anil Vij once again triggered controversy after his no Namaz in public' statement and this time minister compared Congress chief Rahul Gandhi to deadly Nipah Virus, that has claimed many lives in Kerala and spreading across the country. Taking to micro-blogging site Twitter, Anil Vij stated, "Rahul Gandhi is similar to Nipah Virus whichever Party he comes in contact with, that Party will be finished."
"They (parties) are trying to come together (in alliance) but they will be finished off," Vij added. To be noted, the Haryana minister was referring to mahagathbandhan or grand alliance of anti-BJP forces.
राहुल गांधी #निपाह वायरस के समान है । जो भी राजनीतिक पार्टी इसके सम्पर्क में आएगी वह फना हो जाएगी ।

— ANIL VIJ MINISTER HARYANA (@anilvijminister) May 27, 2018
Well, this not first time that Vij has attacked Rahul Gandhi, with his sharped words. Last year, Vij had said that the decision to make Rahul Gandhi Congress president would help Prime Minister Narendra Modi achieve his dream of a Congress-mukt Bharat (Congress-free India).
Earlier, Haryana Chief Minister Manohar Lal Khattar said offering namaz should be restricted to mosques, eidgahs or "private places. Speaking with the media in Ambala on Monday, Vij said, "Our Constitution permits everyone to worship according to one's religious faith. Lekin kisi bhi zamin par kabza karne ke liye namaz padna hai to ussey sveekaar nahi kiya ja sakta."
The deadliest Nipah virus has claimed one more life in Kozhikode district of Kerala on Sunday, taking the overall death toll to 14, reports. It has now been close to a week since the dreaded Nipah virus outbreak hit Kozhikode in north Kerala.
According to the World Health Organisation (WHO), Nipah virus (NiV) infection in humans has a range of clinical presentations, from asymptomatic infection to the acute respiratory syndrome and fatal encephalitis.
Also read: Uttar Pradesh: Shocking! Muslim man breaks temple sculpture in Agra; angry mob ties him to a tree and beat him hard