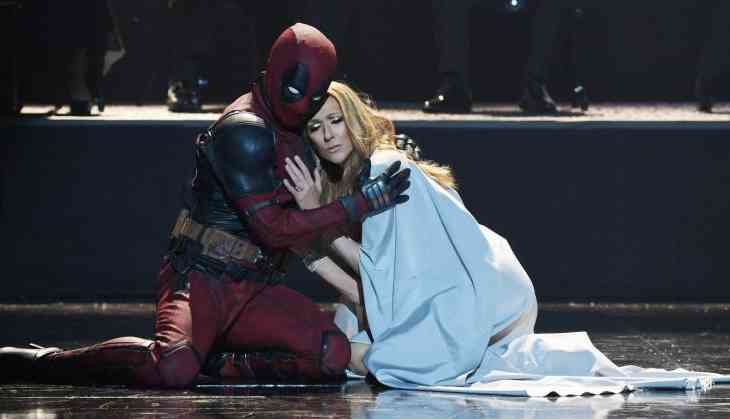 There is music which people listen to and then there are music videos which they see and cherish.
Everyone is waiting for Deadpool 2 which will hit the theaters on May-mid but the sizzling Celine Dion has already filmed a video for the song, which features Deadpool himself dancing and performing next to her in the song.
The famous pop sensation Celine Dion and iconic superhero Deadpool have come together for a hilarious and awesome music video called "Ashes."
Deadpool 2: Original Motion Picture Soundtrack Tracklist:
01. Celine Dion – "Ashes"
02. Diplo, French Montana & Lil Pump – "Welcome To The Party" (feat. Zhavia Ward)
03. DJ Shadow – "Nobody Speak" (feat. Run The Jewels)
04. Peter Gabriel – "In Your Eyes"
05. A-ha – "Take On Me (MTV Unplugged – Summer Solstice)"
06. Cher – "If I Could Turn Back Time"
07. Dolly Parton – "9 to 5"
08. Air Supply – "All Out Of Love"
09. Pat Benatar – "We Belong"
10. Alicia Morton – "Tomorrow"
11. Tyler Bates -" Mutant Convoy"
12. Skrillex – Bangarang (feat. Sirah)
"This is Deadpool 2, not Titanic. You are like an eleven, we need to get you down to a five," Deadpool says. To which the legendary singer replies with a sassy, "Listen, this thing (pointing to her throat), goes to eleven. So beat it, Spider-man." The video ends with Reynolds aka Deadpool saying, "God, I should have asked NSYNC."
But after her performance, Ryan Reynolds as Deadpool tells her she's "too good" for the film and needs to perform the song again but worse.
"That was amazing. That was the most beautiful performance I've ever seen in my life," he says.
"This is Deadpool 2, not Titanic. You're at like an 11, we need to get you down to a five, five-and-a-half tops. Just phone it in."
"Listen, this thing only goes to 11," Dion responds, pointing to her vocal chords. "So beat it, Spiderman."
Also Read: Get a chance to meet Taylor Swift on her Reputation world tour; live concert dates announced