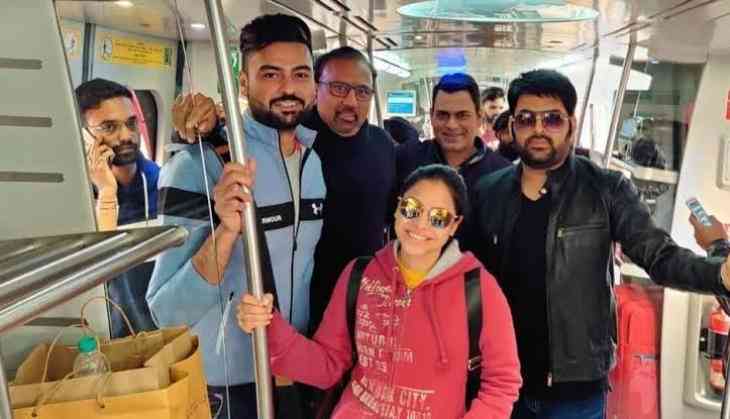 Humorist Kapil Sharma took to his official twitter handle to share a picture of him on a Delhi Metro along with his team from the Kapil Sharma Show on Tuesday.
Kapil Sharma shared the pictures and captioned it, "No need to stay in traffic anymore. Just take a metro. #DelhiMetro #Traffic."
However, his tweet stimulated many to remind him that onboard photography was forbidden. A number of users responded to his tweet to tell him that taking pictures while travelling is not permitted in Delhi metro.
"Aahaa... clearly written all over... photography in metro not permitted... After all, what Indian will observe rules," a Twitter user commented.
Also Read: Flashback 2019: 5 heartwarming anecdotes that made us smile
Here are some reactions on his tweet:
Aahaa... clearly written all over.. photography in metro not permitted...Afterall indians h rule maan liye to Indians kaise :D

— Vishal (@VishalVns3) December 24, 2019
Kappu sharma ji.. मेट्रो में फोटो खींचना allowed नहीं है 😋😋

— Amit Srivastava (@S_Kumar_Amit) December 24, 2019
Kapil ji, What authorities your team to take pictures inside the Metro. The signs clearly state 'no photography'.

— Kam (@CoachGupta) December 25, 2019
Photography is prohibited in the Delhi metro so why are you all click photo during the journey of Delhi metro by the way nice click to all of you.

— Sachin (@Sachin80376493) December 26, 2019
Many people also eulogised the comedian for using the public transport.
Also Read: Solar Eclipse 2019: Twitter triggers meme fest after PM Modi tweets picture of himself
Too good too see your step towards the awareness of this to use more and more public transportation..
Nice to see it😍

— Ritesh Ranjan (@RiteshR25436430) December 24, 2019
Kya bat hai bhai, Aap Delhi me..Wo vi metro me.. good to see that even you using metro.

— bipin singh (@Bipin13021) December 24, 2019