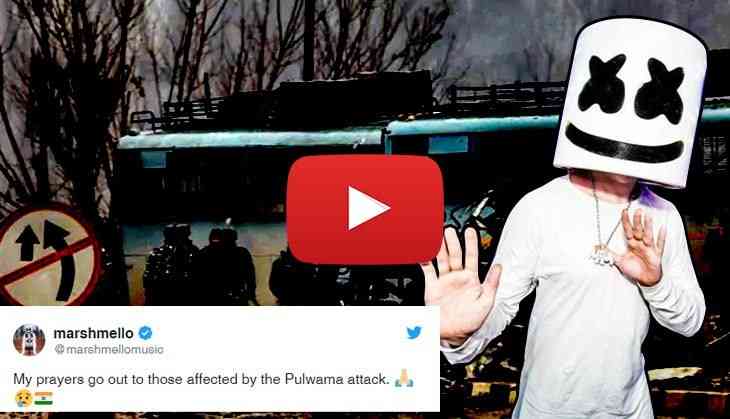 Musician DJ Marshmello has won the heart of the Indian for his lovely gesture during his musical concert in India. As you all have heard that the musician was in India and toured across the country and also performed with Bollywood actors like Shah Rukh Khan, Kartik Aaryan. Before starting the musical show, DJ Marshmello gave a special tribute to the CRPF soldiers who were martyred in the Pulwama terror attack.
Yes, during his show in Pune at the Vh1 Supersonic Festival, Marshmello paid two-minute silence for the jawans killed in the suicide bomb blast in Pulwama before starting his performance.
Now, his video of doing such heartfelt thing for Indian jawans has also won the hearth of netizens.
In the viral video, when DJ Marshmello was paying tribute, at that moment, the Indian flag was also projected on a screen in the background. His fans applauded him for doing this for our country.
He can also be heard saying that 'before I start the show, I want to have a moment of silence for all the Indian soldiers that were martyred in the terrorist attack.'
See video:
DJ Marshmello had also extended his condolences on the micro-blogging site, Twittter.
My prayers go out to those affected by the Pulwama attack. 🙏🏼😢🇮🇳

— marshmello (@marshmellomusic) February 15, 2019
His fans have also appreciated and applauded his kindness and tribute to Indian CRPF personnel, who were killed in the Pulwama attack on 14th February, during his musical concert.
Check out the reactions:
Thanks mello, but they're going to pay for that, more than they have caused. They'll regret soon.😡😠😡🇮🇳

— Nupurs Bracket (@NupursBracket) February 15, 2019
You're so nice!! You're showing your affection for them! RIP the martyrs of PULVAMA ATTACK!💐😢

— Butera Mendes❤ (@gramen_putcam) February 15, 2019
Thank you..
My prayers go the 40 soldiers who died in the attack. 😢😭

— ItsLucy #Pray for Lizzie (@RenuSin03439338) February 15, 2019
Wow...u are such kind person😥😔😭 @marshmellomusic our love and support is always with you from India

— Abin Alex (@AbinAle75197717) February 15, 2019
You so very good! I want to meet with you sometime, that you would come to my birthday: ( @marshmellomusic pls,
Fulfill my wish

— Alexey (@Alexey63224222) February 15, 2019
What a lovely gesture of DJ Marshmello!
Also read: Watch how this Indian shoe seller sells shoes by using slogan 'Pakistan Murdabad' in a busy market place in Delhi; see video