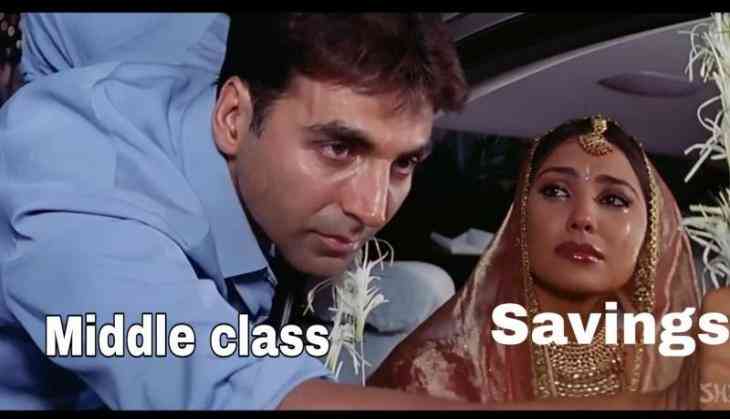 Finance Minister Nirmala Sitharaman today tabled the Union Budget of the year 2022-23 in the parliament. A lot of people displayed their reactions to the budget on social media and some did so in a funny way.
As a matter of fact, the hashtag #Budget2022 also began trending. Many people shared funny tweets using the hashtag.
One of the user explained how they react when they cannot fully understand the budget:
People discussing about #BudgetSession2022.....

Me with zero knowledge of finance : pic.twitter.com/rHtiZcnfnL

— UmderTamker (@jhampakjhum) February 1, 2022
Then there are the CA-related posts that people share every year. like this one:
CA members and students waiting for ammendments be like : #Budget2022 #Budget #BudgetDay pic.twitter.com/n62rO4kuVm

— Samarth Mahajan (@samarth_m1) February 1, 2022
How can a list about Budget memes be complete without the middle-class related posts.
#Budget2022 arrives pic.twitter.com/nbXsSbtqo7

— Neeraj✨ (@nirlaj_hu) February 1, 2022
The users also shared a post about the salaried taxpayers:
Salaried class waiting for Finance Mister to talk about Tax Slabs. #Budget2022 #BudgetSession2022 #BudgetBytes pic.twitter.com/B6QRrw84RB

— Akshay Saini (@akshaymarch7) February 1, 2022
This Twitter user shared a post imagining how experts are reacting after the budget:
#BudgetSession2022 experts on twitter today. pic.twitter.com/MCAExvxfpl

— Krishna (@Atheist_Krishna) February 1, 2022
Checkout some more funny posts shared by users on Twitter:
Tax payers waiting for the good news...#Budget2022 #incometax pic.twitter.com/b7Ek3DxEZd

— सख्याहरी (@sakhyahari) February 1, 2022
So many people talking about union budget 2022. And that's good.

Don't know how many actually understand it 🤔#UnionBudget2022 #NirmalaSitharaman

— Neha Nagar (@nehanagarr) February 1, 2022
Unemployed me waiting for #Budget2022 pic.twitter.com/8yDIuOBtz1

— 𝕸𝖆𝖓𝖛𝖊𝖓𝖉𝖗𝖆 𝕾𝖎𝖓𝖌𝖍 (@Soul_s_Eye) February 1, 2022
Which of these funny reactions, memes and jokes made you laugh out loud?
Also Read: Union Budget 2022: Key takeaways from FM Sitharaman's presentation