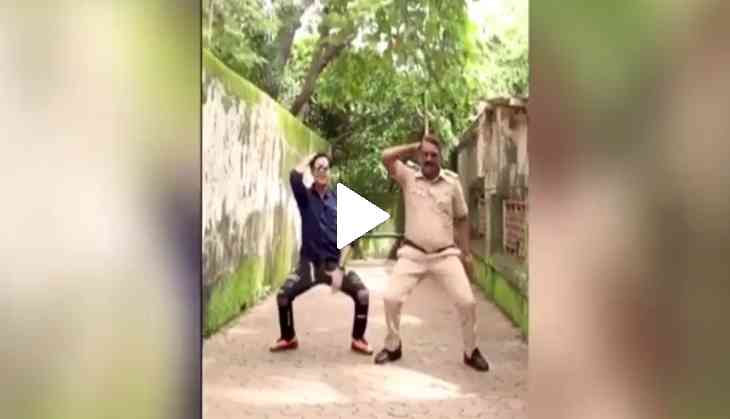 Amol Yashwant Kamble's dance viral video
A cop from Mumbai Police has become the talk of the town for his amazing dance videos on social media. The 38-year-old police naik of the Mumbai Police is the new Internet sensation.
Amol Yashwant Kamble, who is posted at Naigaon police headquarters, performs amazing dance steps to the song 'Aya hain raja' from the film 'Appu Raja'. He often shares his dance videos on his Instagram account.
His dance videos have grabbed the eyeballs of Insta users.
Watch Video:
Talking about his dance video, Kamble said that his dance was based on the theme of an on-duty policeman asking a two-wheeler rider to wear the mask properly.
Kamble joined the police force in 2004 and dance has been his passion and he has been performing since childhood.
Also Read: This dance video of 89-year-old dadi with her grandson will bring a smile on your face
He also revealed that his elder brother is a choreographer and he even did some dance shows with his brother before he joined the police force. He dances during his weekly offs or in his free time.
According to Zee News, "As a policeman, I have a responsibility to maintain law and order and to protect citizens first, but on my weekly offs, I dance with my children, my sister's children and have fun," Kamble said.
During a police event, Kamble had once performed with Bollywood actor Hrithik Roshan.
Kamble's dance videos received positive reactions from his followers which made him happy.
"People should pursue their hobbies and take some time out to follow their passion and think positively," the Mumbai cop said.
Also Read: This bride and groom dancing like no one's watching; video goes viral