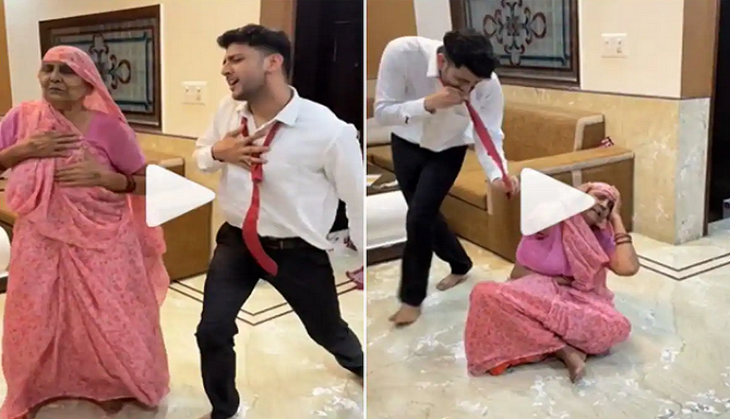 Screenshot from the viral video
Grandparents always share a beautiful bond with their grandchildren. The relationship is based on appreciation, fun, and pure joy. We have seen several awdorable moments between grandparents and their grandchildren on social media platforms too. One such video of grandmother and her grandson has surfaced on the Internet which will make your day!
In the video, the grandmother and grandson can be seen dancing together on an Instagram reel. The Jodi of dadi maa-pota were dancing funnily to the 'I don't believe in soulmates' song, which has become another trend on the gram from the past few weeks.
The video has been shared by an Insta user named Ankit Jangid, who is a content creator and has 18.9k followers on Instagram.
Also Read: 4-year-old girl falls down during roller-skating race; what happens next will amuse you!
Taking the video to Instagram, Ankit wrote in the caption, "Found my soulmate in my DADI"
In the video, the grandmother is seen dancing in her desi style while her grandson also joins her and also follows her steps. At one point, the boy also performs the Naagin dance step which is hook steps in Indian dance weddings.
Isn't they make an adorable duo?
The video has garnered over 10,000 likes and many heart emojis on Instagram. Netizens call her 'dadi cool'.
One of the users wrote, "ye bnda or iska dance…. unique hai."
Another commented, "Mind-blowing performance and dadi expression is mind-blowing awesome"
Also Read: Meet the 'Bachpan Ka Pyaar' singer who has become new Internet sensation