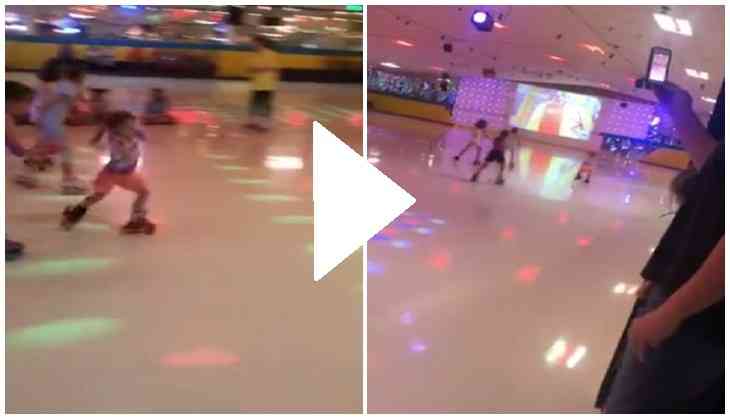 Screenshot from the viral video
An inspiring old video of a 4-year-old girl from Hudson, Massachusetts has gone viral on social media. In the video, the little girl can be seen participating in a roller-skating race. As soon as the race starts, the girl falls on the floor.
What she does next will make you applaud her.
After falling on the floor, the girl didn't lose hope and immediately lifted herself to win the race.
The viral video was shared by the little girl named Meiah's father Anthony Dugas in 2020. However, the video has again surfaced on social media.
Also Read: Two women fall off 600 ft while taking swing ride; scary video goes viral
He again shared the video of his daughter from the race on Instagram with a caption, "For those who remember this, Meiah was only 4 years old. It was a race for kids up to 8 years old. This video has been seen more than 500 MILLION times since it was released in 2020. It's now going viral again and I want the world to see how much of a fighter she is love (sic)"
The video has garnered over 500 million views on TikTok.
Dugas recorded the video when Meiah was just 4.
Watch the inspiring video of Meiah
Now, Meiah has turned 8 and she is quite a pro when it comes to roller-skating.
Click here to watch the new video of Meiah
After watching the video, netizens hailed the girl and called her 'inspiration'.
A user wrote, "She's gonna be the winner in life. She knows what she's doing (sic)"
"I will forever love this video. A true testament to when you fall down get right back up and push forward (sic)," another commented.
"Meiah is such an amazing little girl!! Her looking to you is a true testament to what a wonderful dad you are and how much she trusts and loves you. I've followed you and Rebecca for a long time and it's so amazing to see how much her and Jackson have grown. Your children are beautiful souls," a gram user wrote in the comment box.
Also Read: Husband falls into muddy water; here's how his wife reacts