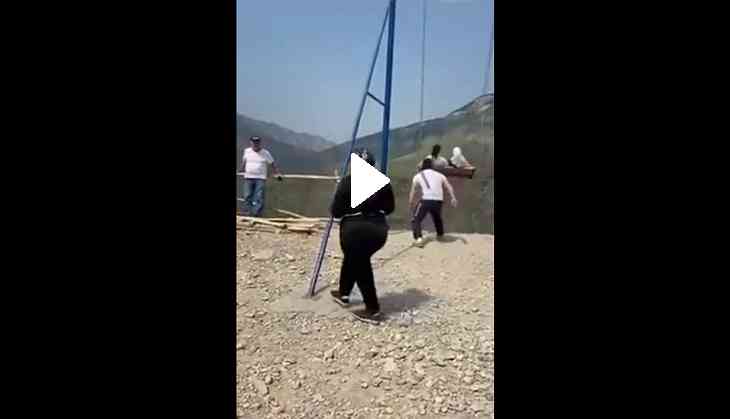 Screenshot from the viral video
If you are looking for some horrifying visuals on social media then we have brought one such video which will surely give you goosebumps. A viral video from Russia has surfaced on the Internet which shows two women enjoying their swing ride at above 6000 ft. All of sudden, their ride turned into a nightmare after they fell from the swing.
In the video, the swing is placed right on the edge of a cliff. The two women can be seen taking a swing ride with the help of a man who is seen pushing the swing. Initially, the women were enjoying the ride as the man pushing the swing but soon their joyous ride turned into a mishap after the swing's chains snap and the duo fell off the swing perched on the edges of a 6000 ft cliff.
The incident took place in Sulak Canyon in the Russian Republic of Dagestan.
Check out the video:
Moment two women fell off a 6000-Ft cliff swing over the Sulak Canyon in Dagestan, Russia.
Both women landed on a narrow decking platform under the edge of the cliff & miraculously survived with minor scratches.
Police have launched an investigation. pic.twitter.com/oIO9Cfk0Bx

— UncleRandom (@Random_Uncle_UK) July 14, 2021

Miraculously, the two women escaped with minor injuries, Daily Mail reported.
"The women got scared and sustained scratches, but neither of them suffered serious injuries. It is chilling to imagine what could have happened if they slipped when the swings were at a maximum height," Komsomolskaya Pravda newspaper quoted a source in the law enforcement as saying.
According to the Ministry of Tourism in Dagestan, the swing didn't meet safety measures due to which the two women fell.
Meanwhile, police have launched an investigation into the matter.