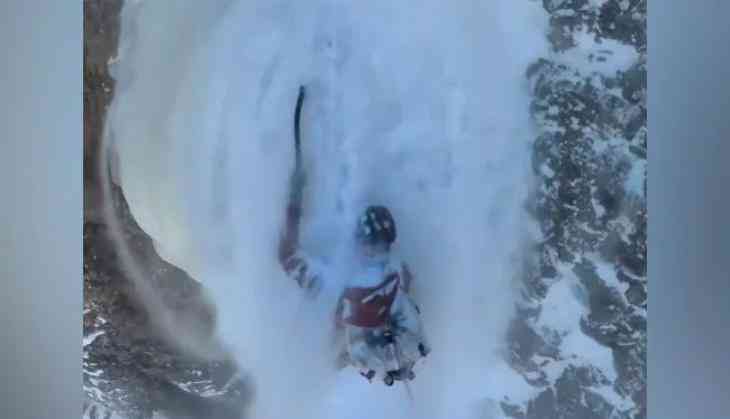 A mountaineer has talked about the "sheer unbridled terror" he underwent when hit by an avalanche around 400 ft above the ground. The mountaineer, identified as Leland Nisky was ice climbing the Ribbon in Ouray, Colorado, when the snowslide struck.
The climber was all alone, unroped and knew about route's dangerous reputation of releasing large avalanches, according to Climbing magazine. However, on 8th February showing a low hazard prediction, he made a decision to go forward. What happened next was one of the most terrifying experiences of his life.
The video displays the mountaineer utilizing an ice axe to hold onto the mountain side. When the avalanche hits, the climber is forced to make use of his other ice axe to secure himself in place as snow continues to fall on him.
"In the video it's hard to tell, but I was slightly under a bulge of ice, meaning that I did not see it coming," the mountain climber told Climbing magazine. "I was actually switching my hands to place my tool when it hit. It was terrifying."
Here's the video:
The video shows Leland Nisky being bombarded with snow while clinging on for his life.
Sharing his experience about how he survived the avalanche, Nisky said " I knew if I stayed terrified I probably would die, so I concentrated on controlling my breathing, hugging in tight to the wall to prevent snow buildup on my body, and tucked my head down to breathe a little air bubble.
"I believe the only reason I lived is because I focused on my breathing to control my fear response instead of allowing fear to control me," Nisky added.
Also Read: Dutch singer recreate songs from Allu Arjun's 'Pushpa', watch viral video