Whether he does it for effect or not, is immaterial. Lalu Prasad Yadav is an entertainer first and a politician later. It is a mark of foolishness to be taken in by his trademark front-brushed hairstyle and his poker face that, frankly, make him look a little clueless.
He's one of those leaders who've taken up a permanent spot in a stand-up comedian's repertoire. Be it Shekhar Suman or Raju Shrivastav, everybody loves Lalu Prasad Yadav. Or at least they love to copy his quirky Bihari accent, his ridiculously good sense of humour, and his trials with English.
This controversial former chief minister of Bihar really does love the limelight and thrives most gloriously in it. After spending a while in the outskirts of all political shenanigans, Lalu is back in business with a new alliance with frenemy Nitish Kumar.
In the upcoming elections in Bihar, the RJD supremo's partnership with JD (U) might make or break his party's chances of coming back in power once again. Here are six instances when Lalu made us LOL, even in the most dreary of times.
01
When Lalu made sure everybody understood that he is here to stay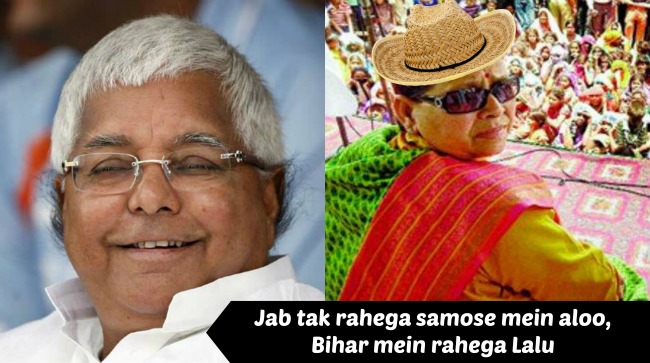 02
When Lalu talked about his love for Dreamgirl, Hema Malini
03
When he tried to translate 'himself in English.'
Chuckling to himself, the then speaker Somnath Chatterjee couldn't stop himself from saying that after Lalu's 'fruitful' speech, Indian Railways will cease to have problems forever.
04
When he was convinced Anna Hazare was being fooled
Lalu tried to convince the Parliament that bechare Annaji was being duped by his those around him. According to him, Kiran Bedi and somebody called 'Kajriwal' were indulging in malicious 'kaan-phunkna'.
05
When he mimicked PM Modi with flair
He made headlines for mimicking Prime Minister Narendra Modi with perfection. He did Modi better than Modi does Modi. *slow clap*
06
When he showed why he's the ultimate political entertainer
He entertained the crowd in the MIDDLE of his rally speech by asking one of his party workers to play a Bhojpuri song on his phone. We're not joking. This really happened. The cherry on the top, was another mimicry of PM Modi.
All images sourced from Patrika