Ladies and gents, you've been kept in the dark for so long. Did you know that in a parallel universe (one that Azealia Banks lives in, to be specific) 'Punjab' and 'curry' are swear words?
Azealia Banks, the singer who suffers from a severe potty-mouth and has engaged in more Twitter spats in the last few months than any other marginally-famous singer, is back.
This time the centre of her homophobic, racist rant is ex-One Direction singer Zayn Malik who according to the vitriolic singer has copied her music video in his latest track.
The neon-popping visuals of Malik's latest track caught Banks' interest, who took to Instagram and shared a collage of the 'similarities' between the video for her song Yung Rapunxel, and Zayn's Like I Would.
Zayn responded via two cryptic tweets, which may or may not have been for her because life and the Queen's language are too complicated to understand at times.

But Banks took the comments to heart and the verbal diarrhea that followed is one the world could have done without.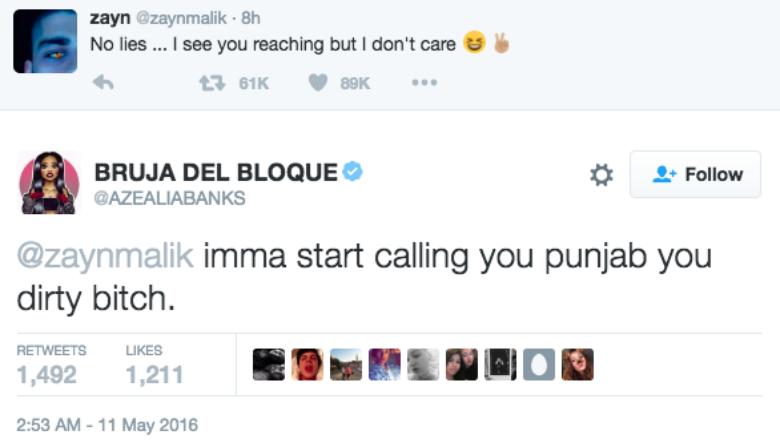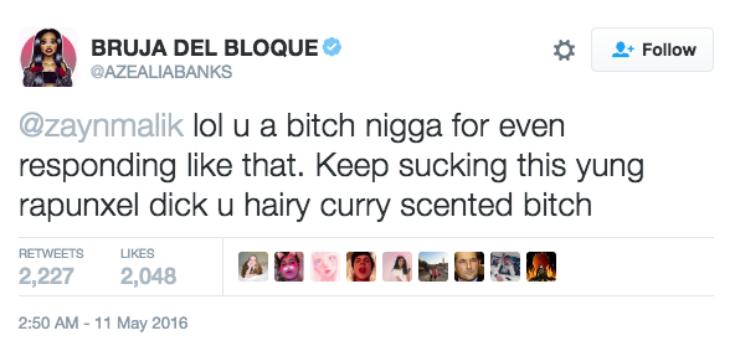 'Punjab' isn't an offensive word, it is an Indian state; and a rather gorgeous one at that. Neither is 'curry', which FYI is so, so delish. So if you thought you were insulting Malik, you might want to study South Asian culture for a bit.
Thankfully, the internet can be a happy place at times and post Banks' comments about Zayn, Indian and Pakistanis alike took up the hashtag #CurryScentedBitch and gave it a beautiful twist.
So if you log onto Twitter today you're likely to find a large drop-dead beautiful women dressed in traditional clothes declaring that they are 'curry smelling' and proud.
YAAAAS!
Erm, #CurryScentedBitch who?

P.S - Indian food is life. Okay thanks. Bye 👋🏽 pic.twitter.com/3VOk0TSUbi

— Kaushal (@KaushalBeauty) May 11, 2016
Lemme add to this #curryscentedbitch @JusReign 🙏🏼🔥 pic.twitter.com/9QWswnswjM

— S.r (@_saiyeshaa) May 11, 2016
Dang! The hashtag #curryscentedbitch is 😍 😍 😍. Never seen so many NRI hotties in one place before.

— That Goan Boy (@schmmuck) May 11, 2016
She says #curryscentedbitch like its a bad thing. 💅🏽 Girl bye 🇧🇩🇮🇳🇵🇰 pic.twitter.com/Wfa2zfXJEL

— Irene Khan (@irenesarah) May 11, 2016
Average girl from Pakistan what up? #curryscentedbitch pic.twitter.com/JUiTohmxlT

— Safama⁶𓅓 (@xxOmgitsfamixx) May 11, 2016
Azealia B is a mess and I pity her 👳🏽 @JusReign thank you for sticking up for us. #curryscentedbitch and proud of it pic.twitter.com/0Vez13CHGf

— shailee koranne (@ssshailee) May 11, 2016
How can you not want to be associated with all of what this culture offers & its beauty? #curryscentedbitch & proud. pic.twitter.com/DyVsQXKRsD

— Crash Bandicoot (@ffs1230) May 11, 2016
#CurryScentedBitch at ya service , anyone want a semi round roti?? pic.twitter.com/ShUKTRsrIH

— Sanaॐ (@SanaBanana3) May 11, 2016
HEY YALL ITS YOUR FAV PUNJAB !! #CURRYSCENTEDBITCH TILL I DIE, GANG GANG 🤑⛽️ pic.twitter.com/HiTd17ZcSV

— fa (@ZlAMSBEFOUR) May 11, 2016
When ur a #curryscentedbitch and so is ur squad pic.twitter.com/3CVONKKN5K

— Shruti Nair (@shrutinair_) May 11, 2016
Erm, #CurryScentedBitch who?

P.S - Indian food is life. Okay thanks. Bye 👋🏽 pic.twitter.com/3VOk0TSUbi

— Kaushal (@KaushalBeauty) May 11, 2016
--
Edited by Blassy Boben