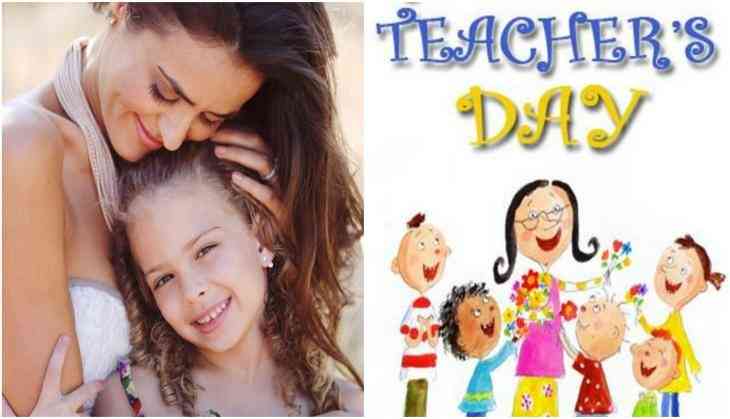 Happy Teacher's Day (Pinterest)
Teacher's Day is a special occasion to celebrate the undying efforts of all the teachers. The day is observed on 5 September every year on the birth anniversary of Dr Sarvepalli Radhakrishnan.
He was born on 5 September 1888. He was the India's first Vice President and second President. Besides all, he was a great teacher. Traditionally, people in India also celebrate Guru Purnima, an Indian festival dedicated to spiritual and academic teachers.
But do you remember who was your first teacher?
Well, we hope that you know the answer. But, if you don't, then we are here to help you to remind you about your first teacher.
We talked to a few students on the occasion of the Teacher's day and asked them about their first teacher. These students named as Jai, Pari, Vedansh, Anushree, belong to different classes. When asked about their first teachers, they all had something interesting to offer.
Here is what they said:
A class IX student, Jai believes that his mother was his first teacher.
"My first teacher was my 'mother' because she is the one who has taught me the early lessons of life. She taught me talk and walk and also made me eligible to interact with others. She is the one who is always present for me. She help me during every part of life, either in studies or in other situations when I needed her," Jai concluded.
He further added that 'my mother is my role model'.
When the same question was asked to another student, Pari, who studies in class VII was unable to remember her first teacher. The little girl got confused and couldn't remember her first teacher.
Vedansh, VI class student, also believed that his mother was his first teacher as she is a guide, teacher, trainer and above all, she is a 'mother'. No matter what level he reaches in his life, for him his first teacher will always be his parents because they had sacrificed a lot for him.
According to Anushree, a X class student, the first teacher of a child is the one who teaches the difference between good and bad things. She explained the teacher as a person who is always their when students face problem. All the qualities that she found in one teacher is her 'mother'. She said that "my mother is my teacher as well as my best friend, without her I am incomplete and incapable of doing anything."
The style of celebrating Teacher's day may change over the years, but the respect for teachers remain the same. It is day to pay tribute to all the teachers, who have shaped our lives.
Teacher's Day is dedicated to every single teacher and mentor and the best mentor in one's life is a 'mother'. She took our little hands and made us walk. So let's take a moment to thank our first teacher – Mother.