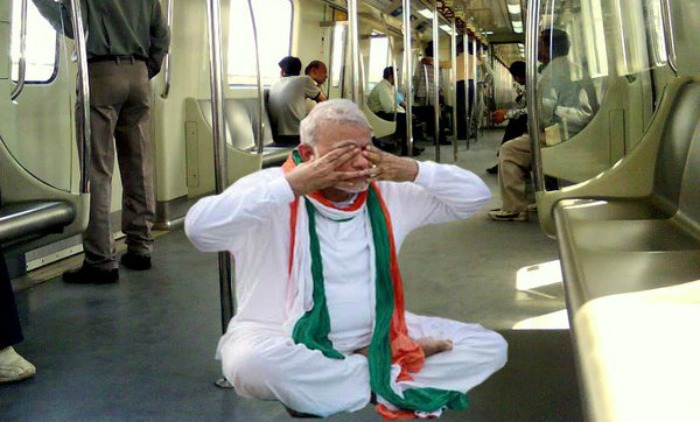 Trolling is an art. And an art that India seems to be working overtime to master.
Delhi CM Arvind Kejriwal's much publicised Odd-Even formula came into effect in the national capital on the first day of New Year 2016. And with it, came the additional baggage of the overly-touchy trolls. On Monday, 4 January, a leading Hindi TV channel tweeted out an old image of Delhi's Sparta zone, Rajiv Chowk. It was an image taken by Hindustan Times during the maddening 2014 Diwali rush. Once HT realised that their image had gone viral one year, two months after it was taken, they put up a clarification and asked the TV channel for a retraction.
This picture was taken on October 22, 2014. It has no connection to the #OddEven scheme https://t.co/soDDlySBg5

- Hindustan Times (@htTweets) January 4, 2016
But by then, the internet had already blown its mind, with memes, jokes and hashtags coming faster than the rest of the world could handle. Thanks to their dedication, hard work and Photoshopping skills, the internet found the long-lost Ramesh-Suresh, PM Modi mid-Yoga, rock concerts, and many more glorious memes bang in the middle of Rajiv Chowk. And you thought it was just another metro station in Delhi. Arrey Ramesh! Suresh!
Iss Rajiv Chowk metro ki bheed me do judwe Bhai ek doosre ko dhoondte hue... pic.twitter.com/txzUeWSkS9

- Amit.A (@Amit_smiling) January 4, 2016
If you cannot walk, skateboard
.@RoflGandhi_ After getting down at Rajiv Chowk. pic.twitter.com/vRiTMSTGrC

- deepak mule (@dpk_mule) January 4, 2016
This one thinks queues can turn people into sadhus
Huge Crowd at Rajiv Chowk Metro Station. People's hair and beard grown long while waiting to board train pic.twitter.com/xKSIbZllRp

- Joy (@Joydas) January 4, 2016
Such funny. Much lol.
Kejriwal after coming out of Rajiv Chowk metro stn today. #OddEvenBhaiBhai pic.twitter.com/Q29mf2XymD

- Psycho (@i_Psycho) January 4, 2016
Because the queuing up can be romantic too.
Getting late for work at Rajiv chowk pic.twitter.com/chSKZg1RCk

- Trendulkar (@Trendulkar) January 4, 2016
That awkward moment when you're trying to LOL, but it just won't come.
More pics coming in from Rajiv Chowk. Situation looks grim. Comeback possible in second half. pic.twitter.com/NwwZ88sRro

- dorku (@Dorkstar) January 4, 2016
Lone sensible shark.
This is Rajiv Chowk metro station at the moment, no mad rush, business as usual. #PropgandaBusted pic.twitter.com/AoQzzT8mkM

- Rofl Gandhi (@RoflGandhi_) January 4, 2016
Don't you all want to see the blue skies again? Let's give this a chance, shall we?