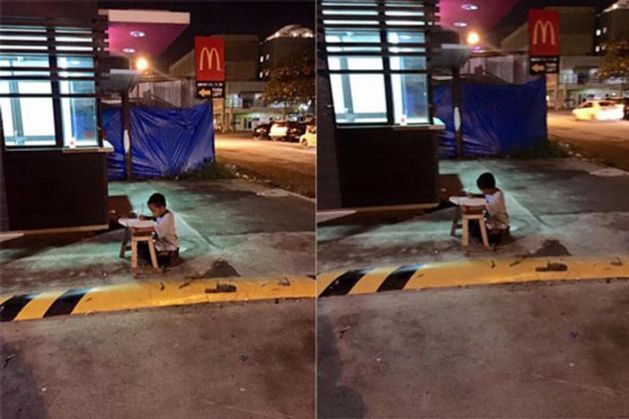 The photo, taken on an island in central Philippines, was posted on Facebook last month by Joyce Torrefranca, a college student. Images of Daniel Cabrera studying on a small bench on the pavement outside McDonald's went viral on social media. Joyce Torrefranca, captioned her Facebook post: "I got inspired by a kid." It has been shared close to 8,200 times on social networking sites and reported in local television.
People who saw the photos have now donated cash, school supplies and have contributed to a college scholarship, which will enable Cabrera to fulfil his dream of becoming a police officer. Daniel's mother, Christina Espinosa, told AFP: "We're overjoyed. I don't know what I will do with all of these blessings. Now, Daniel will not have to suffer just to finish his studies."
Espinosa and her three youngest children, including Cabrera, have been living in her employer's mini-grocery store since their shanty home was gutted by fire five years ago. Espinosa said she earns just 80 pesos (around Rs 112) a day, working at the store and as a domestic helper for the store's owners in their nearby home. She also sells cigarettes and candy on the streets on Mandaue, an urban centre on Cebu island in the central Philippines. Their grocery store home is close to the McDonald's outlet that had served as Cabrera's study area.
Cabrera's father died in 2013 due to severe diarrhoea, said Espinosa, who has three older children, all married and living separately. She described the boy as a tenacious child with a single-minded focus on getting an education. "He is a very studious and determined boy. He would insist on going to school even without his lunch money even when I had none to give," Espinosa told AFP.
"He always tells me: 'Mama, I don't want to stay poor. I want to reach my dreams'." Espinosa said aside from the cash, school supplies and scholarship offer that would guarantee his education through college, people had given school uniforms and a reading lamp.